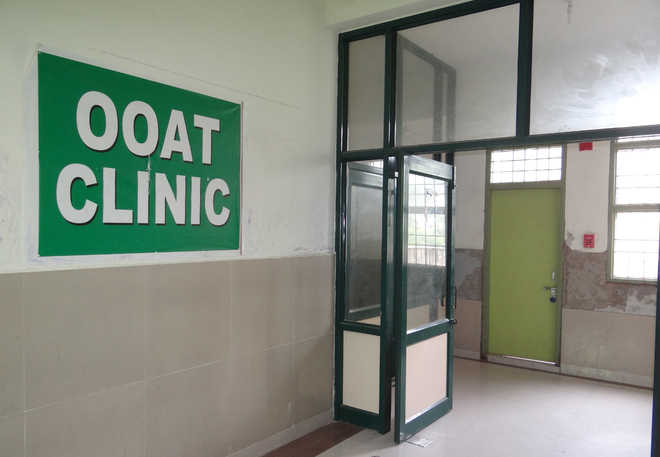 Sameer Singh
Tribune News Service
Bathinda, October 22
The registration of drug addicts under the state government's coveted OOAT (Outpatient Opioid Assisted Treatment) programme has declined sharply in the past one year. The number of drug addicts who got themselves registered at the OOAT clinic this year halved as compared to the previous year when the programme was launched by the state government.
As per the data procured from the OOAT clinic in Bathinda, as many as 789 drug addicts had got themselves registered under the programme to get treatment between May 2018 (OOAT was launched in Bathinda) and December 2018. The enrolment number slipped to 397 from January 2019 till October 2019. As many as 1,186 addicts got themselves registered at the centre in the past 17 months after the OOAT was introduced in the district and a total of 1,781 patients have attended the centre since then.
Interestingly, while the number of enrolment has been declining at the OOAT centre, the Health Department is planning to introduce two more OOAT clinics in the district. The clinics will come up at Nathana and Ghudda.
Dr (Major) Shital Jindal, Medical Officer, In-charge, OOAT Clinic, Bathinda, said, "Most of the addicts, especially those from rural areas, have started visiting other OOAT centres, including Talwandi Sabo and Rampura. They prefer visiting the OOAT centre at Talwandi owing to its vicinity to the bus stand."
An employee of the Health Department privy to developments taking place at OOAT centres on condition of anonymity said initially when the OOAT programme was launched, intensive activity/ awareness drives were conducted by the state government. Drug addicts were brought to the clinics by police personnel, DAPO volunteers and a few addicts visited voluntarily after the scheme was propagated (through media coverage) extensively.
A total of 40 opioid substances, including heroin, smack, brown sugar, opium, poppy husk and tramadol, are being covered under the programme. A psychiatrist analyses a drug addict first and fixes his daily dosage, which is administered under the supervision of a doctor or an expert. The Drug Abuse Prevention Officers (DAPOs) act as a link between the OOAT centres and drug addicts. Their responsibility is to convince drug addicts/parents to get their treatment done at these centres.
Top Stories