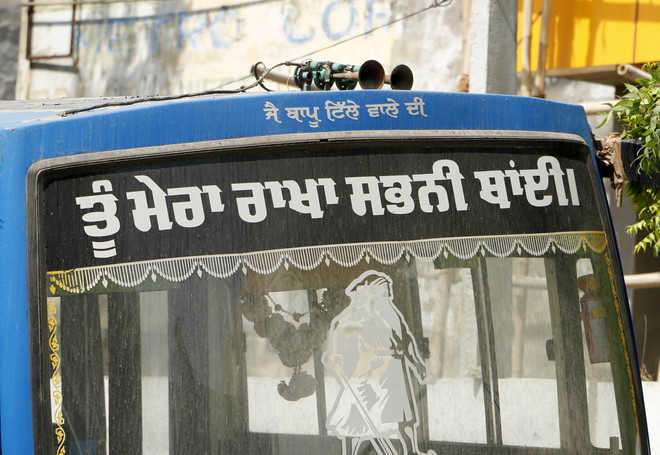 Tribune News Service
Bathinda, October 5
Use of pressure horns by a large number of private and school buses is common on city roads as the traffic police and the transport department have totally failed to ban the pressure horns.
A Bathinda Tribune team visited the local bus stand and found that there were many private and mini buses, which were honking unbearable pressure horns and that too in the presence of traffic policemen. Even one bus of the PRTC also honked the pressure horn.
As buses started their journey from the bus stand, there were nakas at Fauji Chowk, Hanuman Chowk. Many buses, having pressure horns, passed the nakas easily with policemen remaining mute spectators.
Students Kunal and Amandeep, residents of Bathinda, said the noise of the pressure horns blown by bus operators was unbearable.
There is a number of schools in Bathinda and Mansa, most buses of which use pressure horns. Drivers of these buses use pressure horns on roads. There are a number of terms and conditions for school buses, but bus operators hardly care for the instructions issued by the administration. Even the district administration has no time to check it.
The state government has banned all types of pressure horns under the Noise Pollution (Regulation and Control) Rules, but there is no check on the use of the same.
Despite the set norms regarding the use of pressure horns outside hospitals, schools and other silence zones, there is no check on it. The Central Motor Vehicles Act, 1989, states that "no vehicle shall be fitted with any multi-toned horn giving a succession of different notes or with any other sound-producing device giving an unduly harsh, shrill, loud or alarming noise".
A Supreme Court ruling, under Section 119 (2) of the Central Motor Vehicles Rules 1989, has outrightly banned the use of hooters and pressure horns. Using pressure horns is also an offence under Section 190 (2) of the Motor Vehicles Act, 1988.
The sudden and continuous blowing of horns is a major health hazard, especially to commuters on roads. This can damage ears permanently, besides harming the heart, say medical experts.
Bathinda SSP Naveen Singla said that traffic department has been doing job to control this and daily many challan has been cut and in future we will also planning to launch derive to control this.
One traffic wing official said that when we cut the challan and removed the horn, they again carried pressure horn and what will police do in these types of cases.
Top News
No immediate report of any loss of life or property; People ...
Earlier, Amritpal was caught in CCTV footage at a toll plaza...
Police have arrested 154 people so far but Amritpal is still...
Stringent National Security Act has been invoked against Amr...
In his first reaction to the police action, the CM releases ...