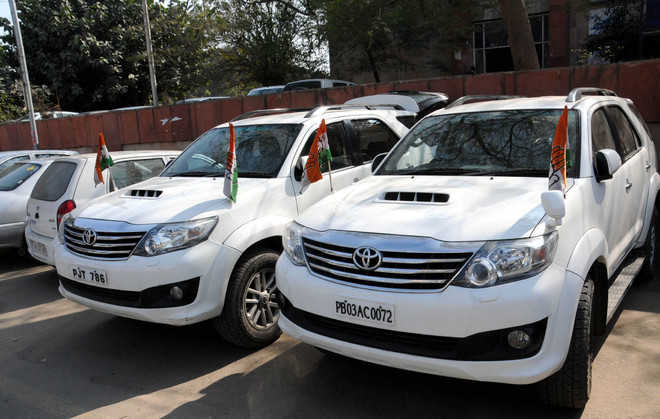 Gurdeep Singh Mann
Tribune News Service
Bathinda, January 22
One of the contrasts that differentiate the 'aam aadmi' fighting elections from the political bigwigs with a prosperous background is the use of vehicles for campaigning for the Assembly elections.
The SAD and Congress candidates have chosen luxury vehicles while most AAP candidates are relying on the 'modest' hatchback cars.
SAD and Congress candidates who became ministers travel in Toyota Fortuner and Innova while the first- timers and young candidates of AAP use Maruti Swift, Maruti Dzire and Hyundai i10.
The cost of vehicles used by SAD or Congress leaders ranges from Rs 20 lakh to Rs 30 lakh while the first-timers in AAP use vehicles costing between Rs 5 lakh and Rs 10 lakh.
Candidates in the city travel around 70 to 90 km daily while those campaigning in rural areas cover a distance of 100 to 150 km.
Most of the Congress leaders such as Manpreet Badal, Harminder Jassi and Gurpreet Kangar of the Congress and Janmeja Sekhon and Sikandar Maluka of the SAD have displayed a special liking for the Toyota Fortuner vehicle.
SAD MLAs Sarup Chand Singla and Jeetmohinder Sidhu also travel in Toyota Innova and Toyota Fortuner.
However, AAP candidates, including Deepak Bansal from Bathinda (Urban), Rupinder Ruby from Bathinda (Rural), Master Jagsir Singh from Bhucho and Prof Baljinder Kaur from Talwandi Sabo are using small hatchback cars.
Deepak Bansal was spotted driving a Mitsubishi Pajero during the initial days of campaigning but now, he is using a Swift Dzire and a Maruti Ertiga.
"I exchanged my Ford EcoSport with my cousin's Pajero but I failed to drive it through streets. Now, I have got small vehicles — a Maruti Ertiga and a Swift Dzire," said Deepak Bansal.
Manpreet Badal and almost all his family members use a Toyota Fortuner and a cavalcade of over two-three Fortuners accompanies him whenever he goes out for campaigning.
Manpreet has a love for the registration number 786 and his vehicles displays the same number.
Top News
Voting for final phase of Gujarat polls ends, counting of vo...
'You (government) are only filing FIRs, but according to you...
Barring a few incidents of violence, polling for the final p...
BJP ruling civic bodies since 2007, won 181 of total 270 mun...
The Delhi govt opposes the Centre's plea saying it will only...