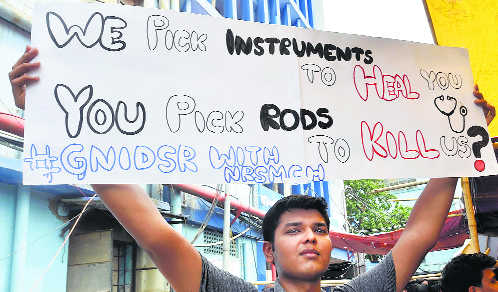 ROBINSINGH@TRIBUNE.COM
Kolkata, June 13
Striking junior doctors in West Bengal on Thursday defied Chief Minister Mamata Banerjee's 2 pm-deadline to join work and said the agitation will continue till their demands related to security in government hospitals are met.
The doctors have been agitating since Tuesday after two of their colleagues were attacked and seriously injured at the NRS medical College and Hospital in Kolkata.
A seven-member delegation of junior doctors, led by the West Bengal unit of ABVP, met West Bengal Governor Keshri Nath Tripathi to apprise him of the prevailing unrest in various medical colleges in the state and requested his intervention in the matter.
The meeting took place in the wake of Banerjee's visit to Kolkata's SSKM Hospital where she gave the agitating doctors a four-hour ultimatum to withdraw their strike and warned of "strong action" if the situation was not normalised within the deadline.
The CM claimed that the agitation was part of a conspiracy of her political rivals. "I condemn the agitation. The junior doctors' strike is a conspiracy by the CPM and the BJP," Banerjee, who also holds the health and family welfare portfolio, said. She alleged outsiders had entered medical colleges and hospitals to create disturbances.
Meanwhile, Union Health Minister Harsh Vardhan on Thursday urged patients and their attendants to exercise restraint and said he will take up the matter of doctors' security with chief ministers. — PTI