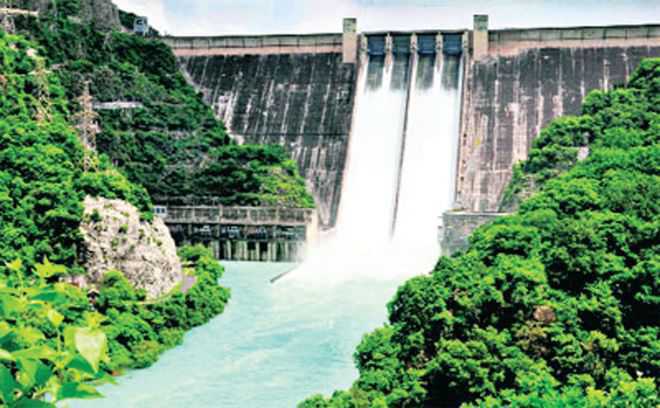 sanjiv@tribunemail.com
Chandigarh, August 25
Following a request from the Punjab Government, the Bhakra Beas Management Board (BBMB) today decided to further reduce discharge from the Bhakra Dam's floodgates from tonight.
The four spillway gates at the top of the dam, which were opened by four feet or about 8 per cent of their total discharge capacity, would now be lowered by two feet. This would reduce the discharge from about 19,000 cusecs to 8,300 cusecs. "The Punjab Government approached us today morning asking us to either stop or decrease the outflow from Bhakra to whatever extent possible.
A meeting was held in the evening to assess the situation and work out the modalities, where it was decided that though the discharge from the spillway cannot be entirely stopped at the moment, there is some leeway to reduce it," a senior BBMB official said.
Following widespread rains in the region, many areas in the state were inundated, causing heavy damage to property and crops. The Punjab Government is engaged in damage control and rehabilitation.
"The spillway gates are expected to remain open by two feet for the next two-three days after which the situation would be reviewed. The inflow into the reservoir is about 45,000 cusecs while the outflow is 54,000 cusecs, including 36,000 cusecs from the power generating tunnels," he added.
There is also a forecast of rain in the dam's catchment area over the next 10 days, which could increase inflows and warrant a change in the situation.
The water level recorded in the reservoir at Bhakra today was 1,676.1 feet, about four feet below the permissible limit of 1,680 feet.
After water had risen above this level due to heavy rains, the dam's spillway gates were first opened by three feet to discharge about 20,000 cusecs and then by eight feet to discharge 40,000 cusecs of excess water keeping in mind dam safety and further inflows.
On August 21, the BBMB decided to bring down the reservoir level to 1,675 feet to cater for future inflows expected till September-end and also to reduce the outflow to 18,500 cusecs, lowering the gates to four feet.
The reason for the Punjab Government seeking a reduction in the outflow is that some breaches in the waterway downstream of Ropar headworks need to be plugged and the repair work can be carried out only if the water level is reduced. During peak floods last week, 2.40 lakh cusecs of water, mostly from several rivulets in the area, had generated at Ropar. The flow downstream of Ropar is now about 40,000 cusecs. — TNS
Cities