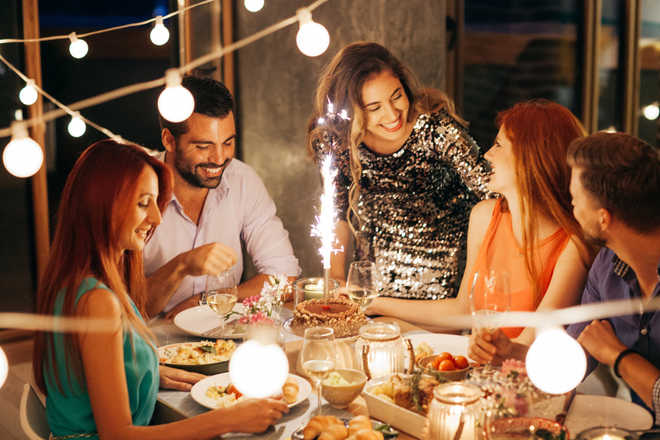 vinaymishra188@gmail.com
Mona
The knock of the winter heralds all sorts of temptations – endless cups of warm tea, lazing around in the sun with a book or the most anticipated of it all—get sucked into the festivities. Dussehra around the corner and Diwali next, it is indulgence written all over—with all sorts of sweets, savouries, partying and lot more.
Our festivals, like anywhere else around the world, are high on food. So, if not now then when do we indulge? But then, there are tips and tricks not to add to the weight and the waistline. Nutritionist Pallavi Jassal asks one to stock up on fruits and seeds. The simple trick to enjoy and take some precautions:
Drink plenty of water. Staying hydrated keeps you feeling full, reducing binge eating.
Snack on fruits and seeds. Adding enough fibre is another sure-shot way to keep full and not give into temptations. Chia seeds sprinkled over salads, porridge or smoothies work like magic. Feeling lazy, pop a spoon of isabgol in water. By doing that you will add fibre, and hence feel full.
Now, parties may be the highlight of the festive season but don't make them food-centric. Aim at having a good time—conversations, music and shake a leg.
To ensure not to overindulge, eat a fruit and two glasses of water before you step out. That would make you more in control of what you put on your plate at a party.
Read salads, grilled, roti. Steer clear of the dessert counter. Please get over the paisa vasool mentality, you would end up paying more for the added festive weight. Think of all the gym memberships, clothes that don't fit and hefty dietician's fees and rounds.
If you must have sweets, portion control is the key. Set your limit—three spoons and no more...
Say no to elevators
Now agreed, the festive days are really long. But then you cannot afford not to exercise. While the routine cleaning, cooking, decorating make you burn some calories, do ensure 15 minutes of exercise too. Brisk walk, a jog or just taking the stairs can do the trick. How about no elevators rule this festive season?
This is no liquid asset!
As much as food needs monitoring, responsible drinking is also important. Not to get carried away is the key. For one, drinks add to your calorie count, two the hangover may cost you few precious hours in the morning.
Now festive wear gives another bout of stress. Ideally, by this time, your dresses should be in. The trips to boutiques for trying and pickups can be another hassle with whole lot of traffic on the roads. Walk if it is walking distance.
Count your calories
One can beat festive/winter weight gain by keeping a check on the total calorie count. If because of late nights, you are not able to hit the gym, do an alternative workout at home. There are apps available to keep track of calorie intake and steps taken in a day. These small modifications help big time. Attending guests and parties is great if done in balance. Get done with all the gifting two, three days before Diwali. Stay hydrated and keep calm. - Niti Bhatia, fitness instructor & fashion designer
Moderation is the key
Festivities ask for some liberties but it is tightrope walk. While throughout the year, I am regular with diet and exercise, I go easy around this time. I have started early, I am doing all the cleaning to make room for calories. With chocked roads, going to the gym becomes an issue, so I try to stretch at home for 15 minutes before starting the day and a walk by the end of it. The major struggle is to stay immune to all the delicious food around you. I restrict myself to small portions on a stomach filled with water before eating! — Aparna Dhawan, quality analyst