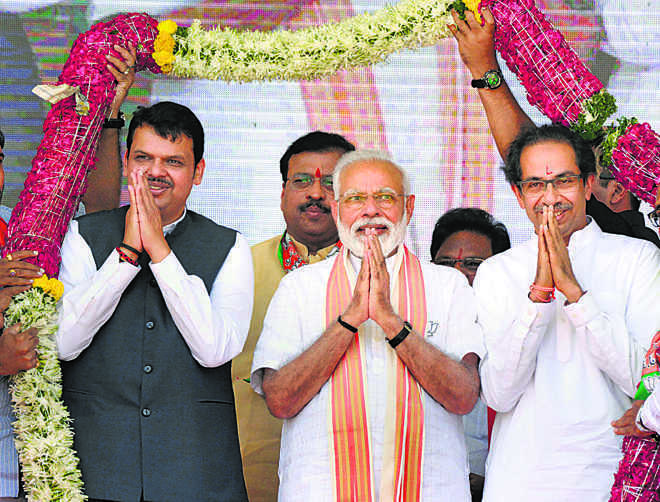 kavishakohli@gmail.com
Shiv Kumar
Tribune News Service
Mumbai, September 11
Despite the bonhomie between Shiv Sena chief Uddhav Thackeray and BJP leaders, evident at an event in Mumbai last weekend where Thackeray praised Prime Minister Narendra Modi, both parties are preparing to go solo in the Maharashtra Assembly elections, should seat-sharing talks fail.
According to sources in both parties, the BJP and the Shiv Sena have already short-listed multiple contenders for all the 288 seats in the elections scheduled for next month.
Both saffron parties have seen an influx of leaders from the Congress and the Nationalist Congress Party (NCP) and there is no shortage of ticket aspirants from the two parties, according to sources.
The BJP is shortlisting its candidates after consulting leaders like working president J P Nadda and Union Home Minister Amit Shah," says a party source. New Delhi has the final say on candidate selection, according to BJP sources here.
The Shiv Sena on its part is very vocal about its 'Plan B' and has begun interviewing candidates for all the 288 seats in the state assembly.
"We are preparing for any eventuality. Last time we were taken by surprise and had to scramble to find candidates in many seats," Shiv Sena leader Sanjay Raut told reporters here.
Shiv Sena sources say a panel comprising senior leaders, including Uddhav and Aaditya Thackeray, has completed one round of interviews for around 75 seats. A short-list of candidates for all 288 seats would be ready well before the last date of filing nominations.
Party chief Uddhav Thackeray will take a final decision on the candidates, according to Sena leaders.
Sources say, in case an allaince works out, the Shiv Sena has resigned to play the role of a "junior ally" in Maharashtra and is planning to settle for around 130-135 seats with the rest going to the BJP and smaller allies.
However, the party's leadership is looking to corner as many winnable seats as possible.