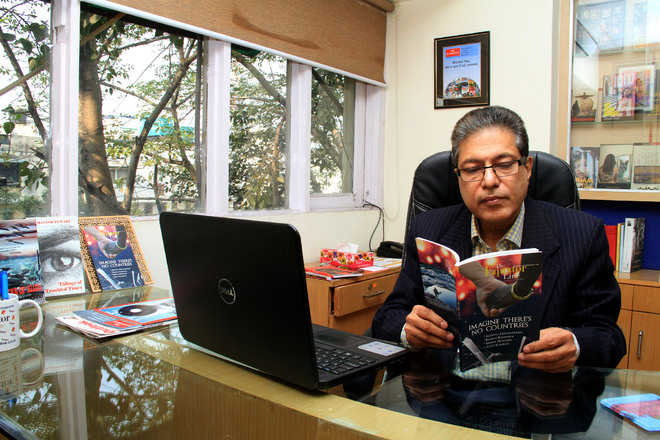 Smita Sharma
Insightful essays that deal with the Indian diaspora — their aspirations and fears in the age of multi-culturalism; heart-warming reads on reinterpreting the Radcliffe line; the search for the shared Indo-Pakistani heritage; the age of the twenty somethings, their struggles with radicalisation to melting the rainbow; leaders, their abilities and loneliness — The Equator Line (TEL) has juggled with the alternate perspective and difficult narratives since its inception five years ago. Late journalist Dilip Padgaonkar had compared this fresh viewpoint to its more popular and established namesake, "Like the equator that divides the world into two halves, The Equator Line is aimed to be equidistant from political affiliations, yet fiercely defensive of its secular and liberal outlook."
Its editor and founder, Bhaskar Roy is a senior journalist, who has spent most of his career with established news publications. Worried about the transformation of written word with advent of technology, he felt news was falling victim to these emerging technologies. Another worrying factor was that as big money poured into media houses, the grip of marketing teams was increasing on the editorial content. Roy felt the urge to reclaim the written word at a time when long-format journalism was popular in Europe and the US.
With an aim to start something along the lines of a Granta, Cicero and New Yorker in India, Roy started The Equator Line with just three-four experienced faces in 2012. "The idea was to bring out a themed magazine. We delved upon a range of themes — automobiles, gender, new-age women, issues of patriarchy, land and alienation that talked about land not just being a source of earning but also roots of language and culture, to an issue completely focussed on Pakistan," adds Roy.
Asked about the current scenario where controversies are created at the drop of a hat with filmmakers and writers as soft and easy targets, Roy says TEL did run into rough weather on several occasions when it focussed on the other side of these topics. The magazine's Pakistan edition only had writers from the not-so-holy land across the LoC and was guest edited by Taha Qehar, a senior journalist and author based in Karachi, much to the ire of many in India. But thanks to an academic community and research scholars strongly backing TEL, the magazine has sustained despite not being much popular with advertising houses.
So if the magazine is not favoured for ads, how does it survive in the age of e-books and Twitter? Because the magazine has kept pace with technology and all its issues are available on Kindle and Magster, says Roy. "We are not part of mainstream journalism, We do not follow day-to-day news or developments. We follow trends in society, culture and music. The pleasure of reading, the intellectual satisfaction of reading something meaningful remains undying. The hunger for knowledge is lot more today which simply cannot be satisfied with news," he emphasises.
Today, with a dozen members on the team, TEL has generated a buzz among young students and undergraduates who want to contribute long essays to the magazine.
To celebrate five years of its journey which Roy defines as 'nothing big though an important milestone', the cover of the latest edition has an image of a white man holding the hand of a black woman. The edition challenges the notion of barbed wires and fences. Writers from Italy, Sri Lanka, Bangladesh, and Pakistan have contributed short stories on cross-cultural affairs.
"We wanted to make a statement that today you cannot divide people along cultural fences. People getting together to celebrate is a natural tendency, raising walls is not," asserts Roy.This brings John Lennon's Imagine to mind:
"I hope some day you'll join us
And the world will be as one."
Top News
Police release new footage; 'Waris Punjab De' chief spotted ...
The case was filed against Gandhi for his alleged 'how come ...
Can't keep defaming people, democracy and the country and ex...
BJP leader Ravi Shankar Prasad hits out at Congress presiden...
In 2017, top court declared practice of instant triple talaq...