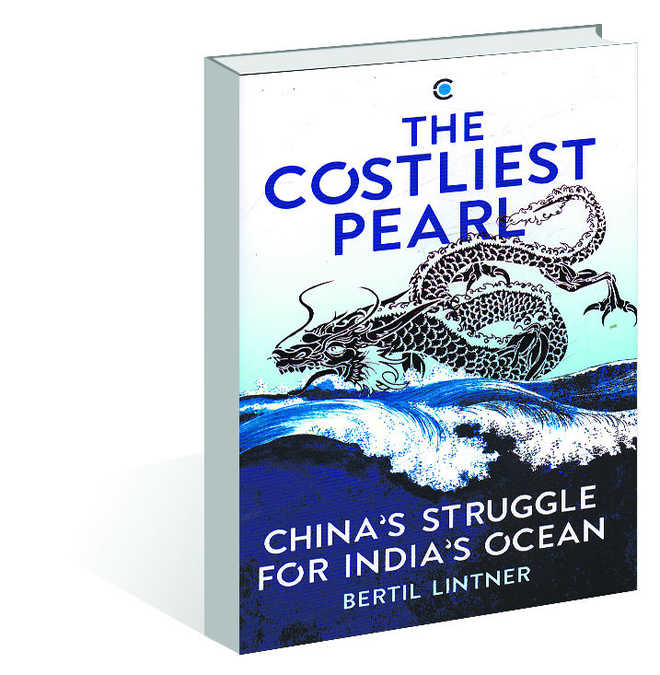 S. Kalyanaraman
China's evolution into the world's second largest economy during the last three decades has been accompanied by a phenomenal increase in its international economic interactions. In 2017, the total value of its trade exceeded US$ 4.1 trillion. Of this, trade with the countries of South Asia, West Asia, Africa and Europe accounted for nearly $1.3 trillion. In addition, China, the world's largest importer of crude oil, sources as much as 80 per cent of its oil imports from Africa and the Middle East. Since the vast bulk of its trade with these regions is carried on ships transiting the Indian Ocean, China has begun to establish its military presence and deepen its diplomatic influence in these waters. China's emergence as an Indian Ocean power is, in turn, causing other resident powers to reappraise their foreign and defence policies.
Nearly a decade ago, Robert Kaplan had highlighted the Indian Ocean's emergence as the central theatre of international politics in the 21st century by detailing the China-India and China-US rivalries as well as the evolving state of affairs in key nodes of the littoral. A key aspect that Kaplan did not address in his narrative was the roles and positions of small island countries and island territories. Consciously or unwittingly, Bertil Linter has filled that gap in The Costliest Pearl.
The pearl that Lintner is referring to is the Indian Ocean itself, a conception that expands the original prognostication made in 2006 of China establishing a string of places or bases (pearls) to secure trade routes and energy sources. Lintner contends that China under President Xi Jinping has become intent on transforming the Indian Ocean into a Chinese lake in order to realise the ambition of establishing its regional supremacy. China has set in motion two policy initiatives in this regard: the Belt and Road Initiative (BRI), and the PLA Navy's Two-Ocean Strategy.
The BRI, as Lintner notes, seeks to "connect China to Europe via Central Asia, the Mediterranean through the Persian Gulf and South Asia via the Indian Ocean." It encompasses 70 countries in Asia, Africa and Europe and envisages an investment ranging between $1 and 8 trillion for constructing roads, railways, ports, airports, and oil pipelines. While such a developmental project is laudable, what has evinced concern is China's pursuit of predatory economics and debt-trap diplomacy.
By building prestigious but expensive and ultimately unprofitable infrastructure projects through loans granted at market rates, China is not only lading countries with debt but is exploiting their resultant vulnerability by extracting economic and political concessions. A good example is the 99-year lease it obtained to operate Hambantota port in lieu of the $8 billion debt that Sri Lanka had accumulated for the project's construction. Such a manner of obtaining access to ports in peacetime may be Mahanian in inspiration, but it undermines state sovereignty and regional security.
While several countries in the littoral have rendered themselves vulnerable in this fashion, Lintner brings to bear much-needed focus on developments in the island countries of Comoros, Djibouti, Maldives, Mauritius, Mozambique, and Seychelles. He provides an overview of their internal dynamics and details China's growing economic presence and diplomatic influence in these states.
Complementing and reinforcing the BRI is the PLA Navy's Two-Ocean Strategy for establishing control over the Indian and Pacific Oceans. Although Lintner does not refer to this strategy, he details China's growing military presence in the Indian Ocean and its determined efforts to emerge as an Indian Ocean power. The strategy's ultimate objective is to secure China's economic interests during both war and peace by entrenching its military presence and modernising its navy into a force capable of establishing command of the seas.
China's pursuit of the ambition of controlling the Indian Ocean is compelling other states with island territories to strengthen their internal defences as well as enhance security cooperation. On this aspect, Lintner provides excellent overviews of the island territories and threat perceptions of India, France and Australia, and highlights their coming together along with Japan and America in an informal alliance "to counter China's increasingly assertive stand" in the Indian Ocean Region. Overall, The Costliest Pearl is a useful contribution to our understanding of the new Asian Drama unfolding in the Indian Ocean.
Top News
The decision amounts to creating a parallel jurisdiction, ta...
The school authorities immediately alerted police, which rea...
'In Punjab, Rs 11 is considered a 'shagun', so I am announci...
On Thursday, Supreme Court nullified the reappointment of Ra...