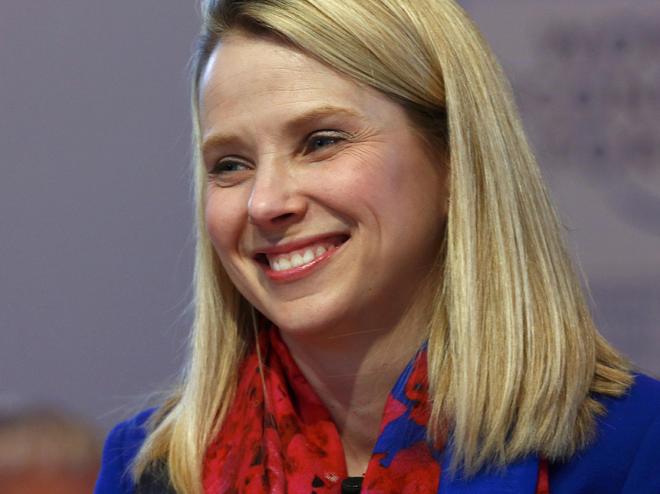 Roopinder Singh
She was seen as a saviour of a company that was a giant when the Internet age dawned in the mid-1990s. Yahoo was still huge in 2012, but seemed antediluvian as younger companies proved to be more in sync with the manner in which people used the net. The new kid on the block was Google, and the person selected to lead Yahoo was one of Google's stars, its first woman engineer and 'Employee No 20 — the 37-year-old Marissa Mayer.'
Brilliant, technically sound, hard worker — and a looker — Mayer had it all, and her career graph at Google was the envy of many. When she took over Yahoo, there was widespread interest in the woman who had left her stamp on Google, and would now be the youngest woman to head a Fortune 500 company.
Her gender may have given her visibility, but the picture of Mayer that emerges is one of a workaholic, who sleeps four hours a day. The one time she overslept, she was late for dinner with important advertisers at Cannes in 2014. She was pregnant when she joined Yahoo, and was back on the job after two weeks, thereby sparking off a controversy. She is shy in small groups, but comfortable addressing audiences, much as a professor would be.
She led from the front and in a short period managed to do much for Yahoo. Employee morale improved, as did the response of the administration to various grouses, often small ones. She took questions, even anonymous ones, and answered these, sometimes much to her discomfort, as in the case of defending her bell curve management system that was criticised for being rigid and demoralising for the employees. The media took her to task for not allowing people to work from home, but her decision was also appreciated by many.
Nicholas Carlson, a trade journalist, has presented a well-paced account of the life and times of one of Silicon Valley's major players. The people behind the products that we all use and how they interacted with each other provide a good backdrop to the life and achievements of the protagonist, although the book is sparse in details regarding her personal life.
We also get a ringside view of the strategies, schemes and shenanigans of people at the head of companies that have been at the forefront of the information technology revolution. That the author has managed to do it all without inputs f rom Mayer is quite an achievement. He has, however, relied on diverse sources, many of whom requested anonymity.
The woman who provided the 'human face' to the story-hungry media at Google and later at Yahoo had risen with her hard work, brilliance and a laser-like focus on self-set goals. Emotions take a bit of a backseat here. A terrific mentor, both at Google and Yahoo, she can also be terrifying for those who report directly to her. A fast learner, she is not afraid of making mistakes, and she has made enough of these to have irked stockholders, and even fed stories in some of the most respected technology journals.
Mayer has lost big on some of the people she brought into Yahoo, but she also made major improvements that resulted in shoring up employee morale. We see how she struggled to bring together disparate products, often run by teams that competed where they should have collaborated. As an engineer, her focus has always been on improving user experience.
As CEO, Mayer is one of the many who have tried their hand at reversing the fortunes of the internet giant. Yes, Yahoo still is one, although much of its present-day value comes from the sagacious financial investment in the Chinese marketing giant, Alibaba.
Yahoo has made successful forays in smartphone apps, with the Yahoo weather app earning great accolades, and providing original content, but it does not have any defining product that would propel it to the forefront of Internet users' screens. Yahoo's revenue comes from advertising, which has been falling, and Mayer's attempt to position her company as a content provider has not yielded desired results, although the Yahoo News website is among the top in the US.
The story of Mayer's stewardship of Yahoo is far from over. That she has lasted over three years is itself an achievement of sorts. That Yahoo has gained under her watch is undeniable, whether it is enough to satisfy major stockholders is a question that will determine her future. In the meanwhile, the story of what she has done so far makes for a fascinating reading.
Top News
Public has returned Rs 3.42 lakh crore or 96 per cent of the...
This comes amid a diplomatic row between India and Canada ov...
Doraiswami was on Friday stopped by a few radicals from ente...
Was speaking to Indian journalists in Washington
Rinda died due to alleged drug overdose at a military hospit...