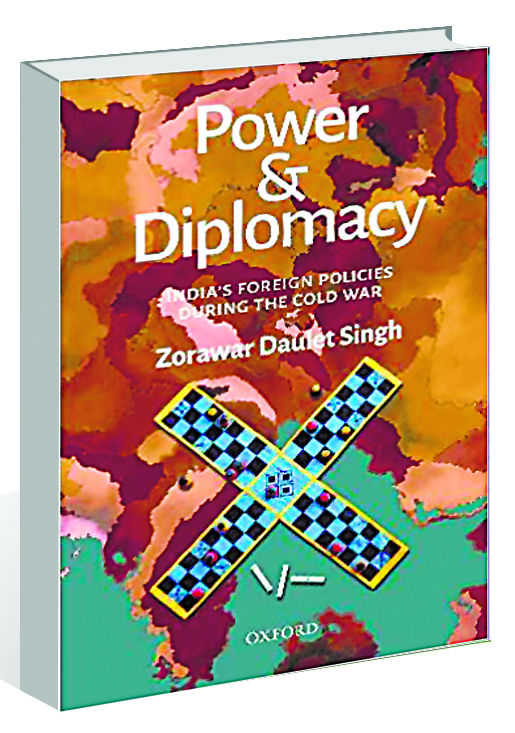 Sandeep Dikshit
Contrary to the general perception of a linear, unchanging foreign policy followed by the father-daughter duo of Jawaharlal Nehru and Indira Gandhi, there was a marked divergence in their approach. Once the smokescreen of the Non-Aligned Movement or the Nixon-Kissinger antipathy during the 1971 conflict is lifted, the tendons of making of the foreign policy reveal that the context and the gurus and the aides who made the difference in the choices their leaders made.
Zorawar Daulet Singh covers a wide canvas during his scrutiny of foreign policy in the first 30 years of the Indian republic, helmed in the main by Nehru-Indira with a Shastri interregnum. There is much waiting to be dissected what with papers by Krishna Menon, DP Dhar and RN Kao unavailable in public domain. But a crop of Indian academics, of which Srinath Raghavan is one (Zorawar quotes him approvingly at times) are dispelling the notion of an unchanging image of power in the mainstream of historiography of Indian foreign policy.
Nehru and Indira reacted differently though the theatres were strikingly similar: the Bengal crises of 1954 and 1971, the Goa (mid 1950s) and the Sikkim crises (1970-75) and the Formosa crises (mid 1950s) and the Vietnam War (1966).
Nehru's choice in all three cases was largely conditioned by his core beliefs; his peacemaker role not driven by a transactional motive to extract material benefits. When India got four airmen released from the Chinese custody, Washington highlighted Dag Hammarskjöld's role that became a stepping stone for his getting the Nobel Peace Prize. For Washington reacted to Nehru, based on an inaccurate understanding of his conviction of a certain image of world order that entailed the involvement and dialogue among all powers.
Pitted against Patel who advocated a military incursion into East Pakistan after Bengali Hindu refugees began flowing into India in 1954, Nehru twice considered resigning. But for Nehru, with Menon by his side, his foreign policy choices were made from his conviction of indivisible security and his quest to expand the peace in Asia. And that is why he resisted a military action and tolerated Liaqat Ali's obduracy.
As opposed to Gandhi as Nehru's mentor, Indira's instinctive approach to power politics was complemented by PN Haksar and RN Kao, both honed in the craft of advantageous realpolitik where war was an extension of politics. And this was in evidence in all three external crises during Indira's premiership: the second Indo-China crisis of 1965-66 (when the US waded in the Vietnam War), the second Bengal crisis of 1971 and the Sikkim action.
The alternative explanations for each of the foreign policy events and the Indian reaction are the book's most tantalisingly portions, making Zorawar, the Yuval Noah Hariri of Indian foreign policy during the Cold War years, because of his dissection of every possible motive.
What about the 1962 Indo-China conflict? Nehru may have completely misread the 1954 Indo-China pact as well as overlooked then Chinese number two Zhou Enlai's clarification, spelt out twice, that only ``outstanding issues are ripe for settlement'' which when straightened out clearly meant (at least to diplomats) that the pact did not cover frontier areas.
Nehru's foreign policy instincts and motivations are aided by voluminous writings and communications among his Cabinet colleagues, senior officials and diplomats. Indira, by contrast, rarely actively shaped the strategic discourse nor was known to frequently put her thoughts to paper. But half of her close quartet – PN Haksar, DP Dhar, RN Kao and TN Kaul – have left behind papers for the public to view which is buttressed by closely written accounts and papers of Shankar Bajpai, CS Jha, Apa B Pant, BG Verghese and many more. Will we ever know as much about the calculus of our current crop?
If Indira was a consummate player of balance of power, she also ensured consciously guarded against an expansion in the superpowers' spheres of influence. "Most of these superpowers have their spheres of interests. We do not agree with this attitude and we are certainly not going to help them have this sphere of influence," she once commented. But Indira's images were devoid of extra regional concerns which were central to Nehru's. That may have been because by the time she took power, many of Nehru's ideas had lost much of their resonance because of the stalemate on the Jammu & Kashmir front and the defeat by China.
Indira accepted balance of power norm as a regulator of international politics and security. Nehru didn't. That is why he confounded the superpowers and delighted and appealed to lesser mortals. So much so, that aware of PM Modi's Nehru-bashing proclivities, foreign leaders, particularly from the Global South, often feel compelled to slip in a eulogy to Nehru.
Top News
Children were attacked on a playground, tweets a local lawma...
Wankhede moved the high court last month seeking quashing of...
AAP accuses the BJP of creating a ruckus at the event
Waste was being burnt, which allegedly resulted in the explo...
He has been awarded forfeiture of three years' seniority of ...