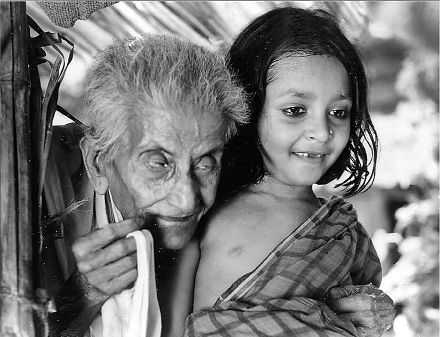 Pankaj K Deo
To revisit the cinematic universe of Satyajit Ray in any form is one of the most pleasurable acts for a cinephile. Amitava Nag's Satyajit Ray's Heroes & Heroines is a film buff's delight, for it delves deep into the actors and actresses Ray chose to play different roles in his films. No such book exists that provides you with so much details on how those actors and actresses were chosen to play the roles they did in Ray's films and over time became legends of cinema. As Soumitra Chatterjee, Ray's most favourite actor, says in its foreword, "Manik Da had a tremendous eye for details and that is reflected in the profiles he created on screen, even the apparently insignificant ones. I am not sure if there has been any book in English that covers the different profiles that he chalked out in his cinema."
Nag has categorised the character profiles of the actors according to the roles they played in Ray's films such as patriarchal father figure, city heroes, and mother archetype. Ray, as an auteur filmmaker, introduced a new style of filmmaking in India, wherein he controlled every aspect of his filmmaking. Inspired by neorealist cinema of Europe, Ray believed in working with non-professional actors and shooting on location. However, Ray was a director with the Midas touch who could exact an extraordinary performance from a non-professional actor. He was mostly his own casting director, and most of the actors for his films were chosen by happenstance. Although Ray gave full freedom to his actors, he was a very methodical director who, like his friend Japanese director Akira Kurosawa, sketched out every detail of the film before shooting. Pradip Mukherjee, a newcomer who acted in Ray's Jana Aranya, recounts in this book: "I still treasure the script-reading session, every detail of his (Ray's) film was in his red-bound book and the rest was in his brain."
Ray had devised his own way of directing the children who appeared in almost all his movies. Uma Sen nee Dasgupta who played Durga in Pather Panchali recalls that Ray "never gave instructions to the children in the presence of others. It was always whispered exclusively to each child so that what he wanted us to do was like a secret between just the two of us. We liked him so much that we wanted to please him."
Mixed cast
His films had a mix of both professional and amateur actors, but that hardly made a difference when you watched the film. The end result always turned out to be above par inasmuch as Ray chose such actors — both professional and non-professional— who shared the attributes of the character and had grappled with similar situations in life as the character was facing onscreen. For example, Uttam Kumar who played the role of a matinee idol in Ray's Nayak was indeed the superstar of Bengali cinema at that time.
The choice of non-professional actors was perhaps also because of budgetary constraints. The book brims over with hitherto unknown facts about Ray's actors and actresses, mostly shared in first person, in a candid manner with vivid details. One interesting anecdote is shared by Waheeda Rehman, who played Gulaabi in Abhijan. Before asking her to act in his film, Ray told Rehman: "Waheeda, you earn a lot of money in Hindi films. I make films on small budgets." Rehman replied that it would be an honour to work in a Ray film and that Ray should not embarrass her by discussing the money part.
In each of his films, Ray demonstrated how a variety of elements — light, music, soundtrack can be made to work together to create a singular perspective. The actor chosen for a particular role was one such element of filmmaking for Ray. As an auteur, he was the principal creative force whose distinct stamp of creativity was writ large on every facet of his film. A Ray film is often more than the story, or even the actors; in fact, it's more about the overall experience it generates in the audience who can relate themselves to the characters who appear on the screen. The characters in a Ray film, with all their flaws and contradictions, provide the fulcrum for the film's exploration of moral imperfection. Ray was very Indian in his approach to characterisation as he did not see his villain as an all evil person. Villains in Ray's films were characters with negative hues, people ensnared in their own belief systems just like the character of Ravana in all versions of the Ramayana.
Ray made films in his own signature style. He was an auteur of Bengali cinema in every possible sense because as a filmmaker he was true to who he was — a Bengali bhadralok whose sensibility was forged in the fire of the Bengal Renaissance. Reading Nag's book may rekindle the old passion in many to watch Ray films in a new light. Overall, the book is a repository of information on Ray's heroes and heroines and a collector's item for all those who once loved watching Ray films.