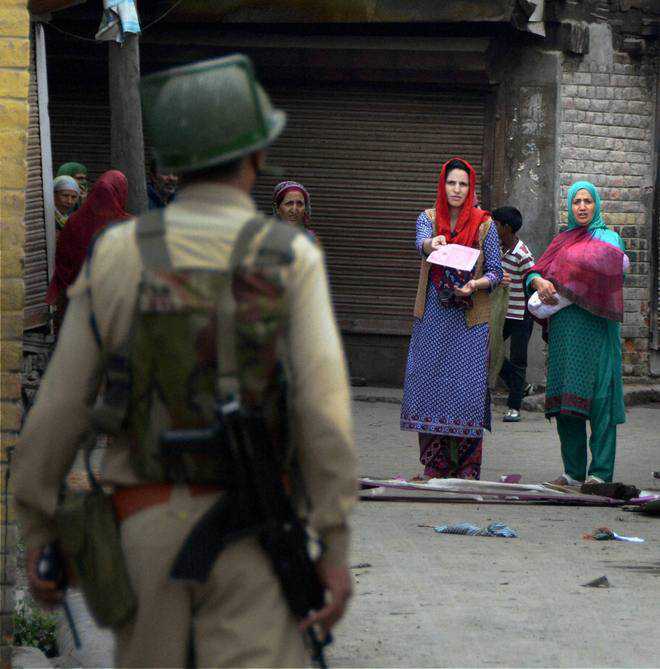 Sumayyah Qureshi
Women and children are the silent sufferers in any conflict. They are usually the major war casualties, sometimes behind the scenes. In Kashmir, which has seen endless violence over the decades, perpetrated by both, the militants and the security apparatus, women and children have had to suffer immensely — denting their emotional, mental and physical well-being.
In the book, the author, Freny Manecksha, quotes from Habba Khatun's verses, who was a mystic wanderer and Kashmir's most loved poetess. Manecksha draws a comparison between the peaceful times that prevailed during Habba Khatun's life and at the present times. "There lives a time when groups of girls could pick chinar leaves and twist them into ornaments, or walk into forests to collect firewood, or celebrate the coming of spring in badamwaris."
Kashmir has come a long way from the times of Habba Khatun. Its women have been robbed off the freedom to live a carefree life that Habba Khatun saw and described in her verses. That idyllic life is a thing of the past now. There are many dangers, numerous threats, there are no more safe places under the chinar trees or in the forests, where women once collected firewood. The spring in badamwari comes and goes, patiently awaiting the revellers that once visited. It is all suffused with a dogged sombreness that looks difficult to shake off.
As jackboots become as ubiquitous as chinars, Kashmiri women have felt the shrinking of spaces and curtailment of freedom. They feel gagged in their own land.
The author talks about militarisation and how it has affected the overall quality of life of women. She has spoken to many Kashmiri women, including journalists, writers and human rights activists, to know what it means to live in the most militarised zone in the world.
The scars that these women have beared are not visible to the eye but lie buried deep within, entrenched in their psyche, mostly festering, as the endless war that these women fight, with themselves and with the outside forces, continues.
The usual narrative about the Kashmiri conflict has majorly revolved around the atrocities suffered by men. This book is among the few works that has taken up the cause of state's faceless, identity-less, oppressed women. It is a small yet significant contribution by Manecksha in which she has written about the sufferings of the women torn apart by conflict. Despite the odds, these women are picking up the threads of life and moving on with their battered lives.
This work is a tribute to the indomitable spirit of Kashmiri women, to their resilience and perseverance and never-ending quest for truth and justice.
Top Stories