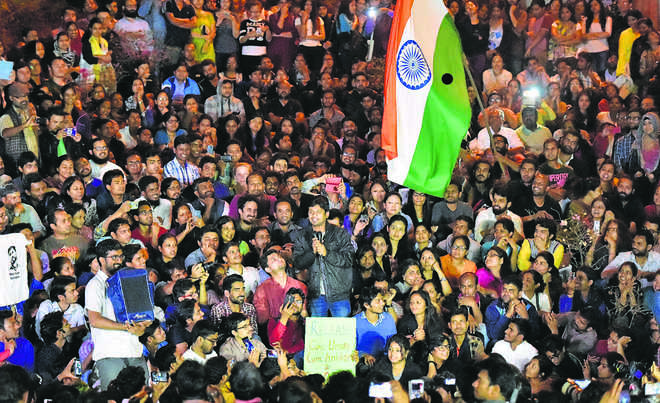 Shelley Walia
Universities make a productive and far-reaching contribution towards the evolution of a society by vociferously endorsing academic freedom and imparting it to a diverse student body. However, the university, as an institution, has been the target of a malicious fascist campaign with the express goal of extinguishing critical thought and free speech. This infects it both from the inside and the outside, subjecting it to scathing attacks from those deeply misinformed. Often the thoughtful and the meaningfully engaged are ignored and overwhelmed by the onslaught of the state machinery and the political factions that control the power politics within the university.
But it is this category of robust, engaged thinkers that forms the mainstay of the intellectual and social life that infuses the future generations with the optimism and promise of a world of open dialogue and free speech, integral to an environment of tolerance and justice. Today, speakers are often shouted down, many harassed or investigated rather than being allowed to initiate a rational examination of competing ideas. Ideological polarisation and repressive thought control become the malaise of the day. It is in such an atmosphere that Keith Whittington has written a bold and honest book reiterating the responsibility of universities to defend free speech with the commitment to age-old liberal values of tolerance and critical inquiry. Respect for intellectual diversity, he argues, is the lifeblood of a university and its mission. It is often seen that "ideological orthodoxies" hinder the progress of creative thinking as well as scholarly inquiry that interrogates the state apparatus or compromises the position of the ruling elite. The book, therefore, is a crisp manifesto of the institutional goals of progress in knowledge through the tolerance of all uncomfortable or stifling thought.
What is imperative is to "set a goal for … building a set of world-class public universities which would be crucial to the social, economic, and political development of the state, the country, and ultimately the world." But the reality of the situation brings out a bleak picture of, in the words of Whittington, "a growing contempt for the scholarly enterprise, and deep political distrust of professors in particular." Often, as is the scenario in India, the ones who speak out their mind in opposition to the state are disparaged as "intellectuals" or "urban Naxals", terms that are pejorative of the activists falsely accused of being anti-nationalists. It, therefore, becomes essential to "engage more with the public and explain what it is we are trying to do in universities."
If this is brushed under the carpet, there is a "danger of backsliding in our commitments to civil liberty." At a juncture when the forces, both from the Left and the Right, are getting increasingly hostile and blinkered, when it has become difficult to exchange ideas with some semblance of affability, this book makes a resounding case for the virtue of traditional liberal values of free speech, tolerance of difference and dissent, respect for individual liberty, and political progress through dialogue and deliberation. The university is indeed a "microcosm of society" where the "nurturing of inclusive communities capable of talking through our disagreements" is the daily exercise that needs to be followed unequivocally. We are indeed facing a serious challenge to these fundamental core values of a modern university where managing public controversies becomes the unfortunate "business" of daily functioning. Universities have "historically served as a refuge where ideas outside the mainstream of society can be voiced and debated." Criticism, rather than suppression, is the hallmark of any forward-looking institution. Anything antithetical to one's view is conducive for a thought-provoking intellectual milieu.
Many examples of controversies that have roiled universities are underscored in the book: What are safe spaces, and do they have a place on a college campus? Must universities regulate "hate speech"? Do demonstrators have a right to shout down speakers with whom they disagree? Should professors who express repulsive views on social media face university discipline? These are serious issues which must be taken up without any qualms and in 'good faith and from good motives". And all who come to such debates must participate with an open and free mind. As Whittington hopes, the book sets out to "encourage campus activists to think twice before trying to shout down a speaker, a conservative student group to think twice about whether to invite a provocateur or a serious intellectual to campus, a politician to think twice about whether to call for a professor to be fired for a bad tweet, and university presidents to think twice before issuing public denunciations or worse regarding professors who have become a source of public controversy." We, at the university, need to give space to our antagonists, may they be from the Left or the Right, and engage with ideological differences in "a spirit of both scepticism and charity." Therein lies the making of an ideal university ready to defend the right to speak freely.
Top News
Opposition members say they have not received copies of Ethi...
Lok Sabha is adjourned till 2 pm immediately after the repor...
The observers will visit the states and give inputs to BJP p...
The firing incident of December 3 was caught in a CCTV camer...
The Medical College police include the shocking details in t...