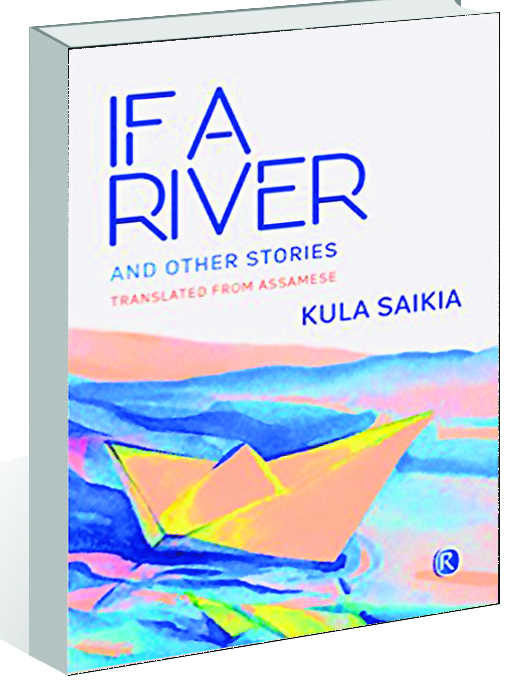 Suparna-Saraswati Puri
"The silent signal from your hand lends motion to the journey of multitudes," this poetic sounding prose is a line from Dr Kula Saikia's recent collection of short stories, If A River and Other Short Stories. At present, Saikia is serving as Director General of Police, Assam (a state that suffers from all kinds of explosions including 'an explosion of green').
A Sahitya Akademi award winner, Saikia's latest compilation is a lookback on day-to-day experiences that enrich the lives of gentile people who have survived rather miraculously amid violence for decades. Sweet-sounding names of Saikia's characters like Photik, Junti, Pronami, Bhuyan, Akashi, are indicative of the enduring beauty that manages to exist in the cultural landscape of the country's famed tea state, embroiled in conflict.
Translated from Assamese, each of the 20 tales is narrated with a certain measure of delicacy and literary elegance. Meandering through a broad canvas of reminiscences, the stories deal with a range of human emotions. These come through a host of characters who seem to be seeking small pleasures in most mundane of situations, locations, relationships and social interactions but with significant profundity.
For instance, in Leopards in the City, translated by Rhinsmita Kakoty Lahkar, "Why does Tarali Dowrah think that in this no man's land the bells of danger toll all the time? Why does she keep count of the inane, stunted, negative thoughts caught in the web of illusions" or statements like "Noise could become her friend now", are insightful queries reflective of an anxious mind, vulnerable due to the fear of being alone in a desolate place.
Old neighbourhoods, bus stops, railway stations, bridges, familiar streets, favourite restaurants, old houses, college and university campuses are not mere venues chosen to tell a story but form an integral part of the mystifying road map Saikia's anthology creates. The Queue, Well-wishers, The Will, The Reunion, Whispers, The Timeless Flavour, Morning Walk, One Last Time, The Game, A Slip of Paper are some of the stories oscillating between imagination and reality spun by the author about the psychological intensities that have impacted the Assamese, through the passage of time.
In Saikia's If a River, from a pool of six accomplished writers one deserves special mention. Originally from Guwahati, Chandigarh-based journalist and author Parbina Rashid's translations echo of an experiential journey that lend a subtle regional uniqueness to each of the stories that she has interpreted quite skilfully.
Having grown up in the agitated Assam of 1980s and later, one that became a terrorism afflicted zone, Rashid has eloquently highlighted the nuanced script of the book by Kula Saikia; Whether it is etching out the poignant tale of loss of a life companion in Well-wishers or accentuating the undercurrents of a long-standing friendship in The Wax Statue or grasping the essence of a sporting mania in The Game or bring to the surface abominable levels of alienation and pathos that a soldier undergoes during war in The Football, Rashid has competently delivered as a deft translator.
Top News
After taking oath as Bihar CM for eighth time, JDU supremo d...
BJP fields Sushil Modi, a long-time confidante of Nitish and...
Aviation Ministry had imposed lower and upper limits on dome...
New CJI will have a brief tenure of less than three months
A bench of Justices Surya Kant and J B Pardiwala also extend...