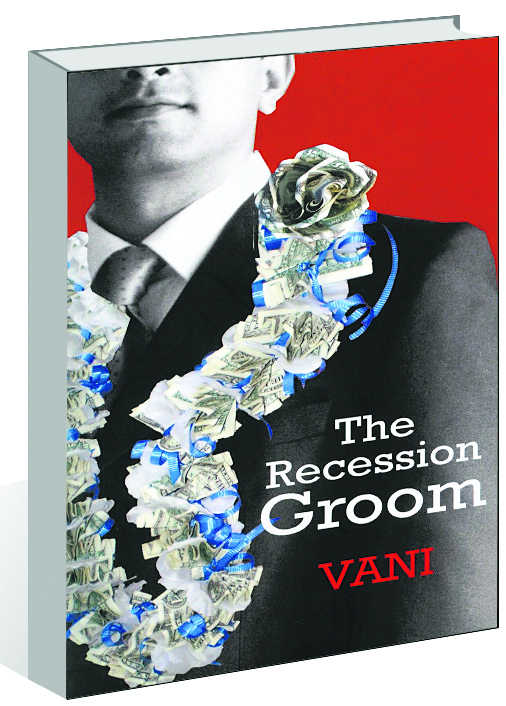 Aradhika Sharma
Marriage has always been an overwhelming obsession with Indians. The Recession Groom is a 'smart story' about the trials and tribulations of a Punjabi boy working in Canada. Parshuraman Joshi — an unlikely sort of a name for a Punjabi boy from Chandigarh — is a highly desirable candidate in the marriage mart, chased and feted by ambitious mamas, who desire nothing more than to have their daughters marry well.
Indeed, almost all the Indian female characters in the book have only one thing on their minds: How to find a handsome protagonist, a suitable partner and they leave no stone unturned to parade before him a bevy of brides-to be. Then occurs the situation, with an unwilling Parshuraman fighting off their attentions, until disaster strikes in the form of global recession. Overnight, the most suitable groom loses his lustre as 'demand' for him falls in the marriage hypermarket. Almost at the altar, a wedding is cancelled and Parshuraman struggles with the double whammy that life has dealt him — loss of a (almost) wife and loss of a job.
There are plenty of characters in the book, including a firangi-love interest, a philosophical grandmother, a shrill sister, an aunt who has blind faith in a 'Maa' claiming divinity. Vani has tried to capture the flavours of the quintessential Indian household and has recognised the importance of a family, while trying to keep the scenario multi-cultural. The marriage theme has, in fact, been excellently explored by Vikram Seth in A Suitable Boy on a much wider canvas, where bridegrooms were sought under rigorous maternal evaluation for Lata's matrimony. Seth has thus set a high benchmark for fiction in Indian matrimony.
Vani's book offers glimpses of the recession in 2008, in Canada, and how it impacted professionals there. The loss of jobs and in some cases like Parshuraman's, it is about a loss in prestige, as he gets rejected by the very people who pursued him relentlessly.
Finally, Parshuraman finds himself back in India when he starts working for an IT firm in Chandigarh. The story hereafter is about the hero unlearning the professionalism of the West and learning the Indian work culture — missing deadlines, shoddy work, coming late to office, making excuses to International clients.
Finally, all the misunderstandings and issues with the multitudes of wannabe brides are resolved, the job crisis is over and Parshuraman is deemed desirable once again by the matchmakers. He discovers where his true love lies.
The tone is light, the story linear, nothing complicated. The book is simple, almost on the verge of being simplistic. It is an easy read and it doesn't tax the reader.
Top News
The former military ruler had left Pakistan in March 2016 fo...
After his failed misadventure in Kargil, Musharraf deposed t...
Military shoots down the surveillance balloon in Atlantic Oc...
The incident took place on Friday when Kambli reached his fl...
Dearness allowance for employees and pensioners are worked o...