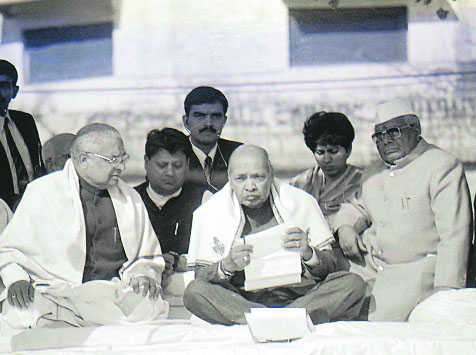 Nirmal Sandhu
Since the writer of this book thinks 'history has judged Narasimha Rao harshly', he has taken upon himself the job of white-washing the Rao legacy and present him as a 'man responsible for transforming India'. That is a serious and demanding responsibility. The writer has worked hard but the outcome is less than convincing.
Before taking over as Prime Minister in 1991, Rao was a Nehruvian socialist. Within a single day he switched ideology. He had admitted that 'I don't understand economics'. Yet after reading a bureaucrats' note, he understood what India needed at that hour. This is what Vinay Sitapati would like the reader to believe.
The writer lauds Rao's 'rapid decision-making at such a crucial moment' and emphasises that before Dr Manmohan Singh, P. Chidambaram, Montek Singh Ahluwalia and other reformers assumed charge, Rao had the reform blueprint ready, thanks to that bureaucratic note. Rao's scholarly pursuits are acknowledged but such swift acquisition of knowledge, that too in economics, is amazing. The more tolerable view is that liberalisation was a collective effort with Rao choosing the right talent and extending them full political backing. The message to Manmohan Singh was: 'If policies fail, you will have to go'.
Vinay Sitapati has done painstaking research, relying on Rao's private papers, press reports and interviews with public figures to build his case for restoring Rao his lost honour. Rao, we are told, does not mind embracing immoral means for achieving his ends. He told lies to sell his economic policies, spied on Congressmen to know who opposed reforms, disguised change as continuity and deceptively linked reforms to Rajiv Gandhi and Nehru.
To humour Sonia Gandhi, he credited Rajiv Gandhi even with pushing nuclear disarmament, conferred Bharat Ratna on him, amended the law to provide SPG-level security to the first family and his Foreign Minister Madhav Singh Solanki tried to scuttle the Bofors probe. Then suddenly one day he decided to discontinue his visits to 10 Janpath. The explanation offered is insufficient. It is human nature not to always play the second fiddle.
After Sonia condemned the Babri Masjid demolition, Rao turned a lion: he asked the IB to keep tabs on her, collected papers relating to her citizenship and sidelined bureaucrats close to Rajiv Gandhi. After having used and abused people and positions, Rao met the end he had worked for. He died a lonely man.
Barring Manmohan Singh, most others abandoned him. After quitting as Congress president, he held a tea party. No Congressman came. If Sonia Gandhi's Congress denied him a high-profile cremation in Delhi, Rao had partly himself to blame; he had earned his fall from grace. Jairam Ramesh says Rao 'had contempt for Congressmen. He never had a kind word for anyone'. K. Natwar Singh believes Rao was 'capable of radioactive sarcasm. He smiled without a smile'.
What happened on his watch shook the country. The 1984 Sikh massacre occurred when he was the Home Minister. Without citing evidence, the writer says a call from the PMO inactivated him. As Prime Minister, Rao was briefed about the killings of innocents by security forces in Punjab. Yet he did not intervene. After the Bhopal gas leak, Rao was accused of letting Union Carbide chief Warren Anderson flee the country.
The Enron deal discredited reforms. Corruption tainted Rao's reign: Harshad Mehta scam, St Kitts scam, his conviction and subsequent acquittal in the JMM bribery case, his son Prabhakar's arrest for irregularities in urea purchase.
The demolition of Babri Masjid marked the lowest point of Rao's rule. The writer argues that blaming Rao for the mosque demolition served two purposes: Sonia's Congress escaped the blame and Rao stood discredited. The fact is, as Sitapati himself admits, Rao blundered by not imposing President's rule in UP. He did not act because he was afraid of losing his job. Rao even turned this opportunity to his advantage. He used secularism to divide opposition and survived the no-confidence motion.
What should normally arouse disgust is passed as lion-fox-mouse games by the writer. Here is a strange defence of Rao: If Prime Minister Vajpayee was not blamed for the 2002 Gujarat riots in which 1272 people died, why is Rao being held responsible for the Babri Masjid destruction and subsequent riots?
Rehabilitating Rao is an arduous job. Political tactics he employed too may have helped him stay in power for a full term despite a minority government and without control of the party but these also diminished his stature. The writer is seeking respect for a man he portrays as a mouse, a fox and a half-lion; a follower of Chanakya and Machiavelli in the pursuit of power.
Top News
Congress leader has been trapped in the consequences of the ...
About 47.58 lakh government employees and 69.76 lakh pension...
LS secretariat has sent notification to EC to declare Wayana...
Prominent leaders stopped by police and detained at Vijay Ch...
Overrules a 2011 verdict by a two-judge Bench