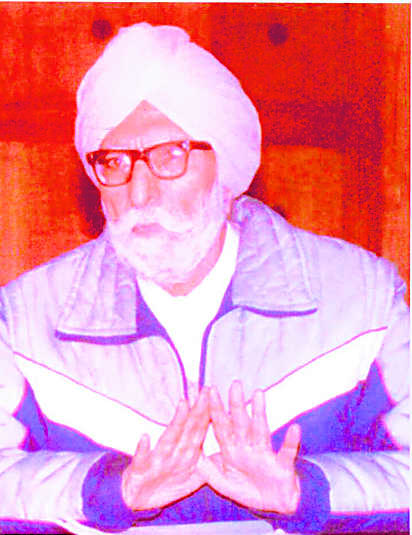 Jaspal Singh
The 1970s and 1980s were the most fertile period in Punjabi literary criticism. Marxism, Existentialism, Structuralism, Feminism, Semiotics and Deconstruction dominated the critical discourse during those years. There have been a number of controversies around those concepts. The most prominent among these was the bitter battle of ideas between Sant Singh Sekhon and Kishan Singh. Sekhon was the first acknowledged Marxist critic. His Sahitiarth, based mainly on Christopher Caudwell's Illusion and Reality, became the Bible of Punjabi literary critics, particularly that of the Marxist variety. But in the beginning of the 1970s, Sekhon's supremacy was challenged by Kishan Singh, a professor from Delhi. The entire Punjabi literary world was divided into two camps — Sekhon admirers versus Kishan Singh votaries.
A well-known Punjabi journal, Sedh, brought out by Gurvel Pannu from Delhi promoted Kishan Singh. He presented a systematic and authentic interpretation of medieval Punjabi literature, including that of Gurbani, which was not appreciated by Sekhon. In the ensuing debate when Sekhon realised that he was losing the argument, he cursed Kishan Singh for his 'low' caste (barber). This is the level to which Punjabi intellection stoops to sometimes.
The present monograph has been brought out by the Sahitya Akademi in its series, The creators of Indian Literature. Author Harbhajan Singh Bhatia is a senior professor of Punjabi literature at Guru Nanak Dev University, Amritsar. He is known for his presentations and articulation skills in the entire region. The Sahitya Akademi chose the right person to do this work on a prominent Punjabi critic.
As a true Marxist thinker, Kishan Singh has written nearly a score of books like Yatharthwad, Sahit de Somey, Sikh Inquilab da Modhi Guru Nanak, Gurbani da Sacch, Gurdial Singh di Novel Chetna, Aaye Inquilab Kurahe Kiun, Azad Aurat, Gurbani da Inquilabi Virsa, Sahit di Samajh and Cultural Revolution to name some. Kishan Singh believes that the purpose of literature is to liberate man from the contingent fetters, who ultimately longs for freedom from desire, fear and spiritual bondage. Gurbani, Sufi kaav and the medieval qissas are nothing but a powerful discourse against the feudal order of society. This society epitomises aspirations of a de-alienated man, who is supposed to be at peace with himself with inscrutable cosmic forces around him. Literary criticism in Punjabi has been subjective, eulogistic and even sycophantic, feels Kishen Singh. It ought to be objective, analytical and dialectical. Great literature is the product of enlightened and dedicated minds meditating over central social and existential issues of the epoch. Gurbani and Sufi Kaav are related to socio-political concerns in a religions parlance.
None of the modern writers except Gurdial Singh is of any reckoning as per Kishan Singh's appraisal. He has been assertive and emphatic in his views, which is why most of the Punjabi writers had been afraid of crossing his path. Despite all this, he has many admirers who keep on referring to him as an authority on Punjabi critical thought. His intellectual adversary, Sekhon has been more prolific. He had written plays, stories and a novel, besides doing a lot of criticism.
Till his death, he had been a great presence in university departments and other literary gatherings. Even a faction of Punjabi Lekhak Sabha is named after him. So in the Sekhon-Kishan Singh controversy, ultimately Sekhon prevailed and Kishan Singh was consigned to oblivion except in the memory of a few university dons.
Top News
Martyr PM's son who walked for national unity can never insu...
Says Rahul Gandhi's disqualification culmination of lawful p...
Indian Ambassador to the US Taranjit Singh Sandhu was not in...
Seeks explanation for 'security breach'
Punjabi singer Moosewala, 28, was shot dead on May 29 last y...