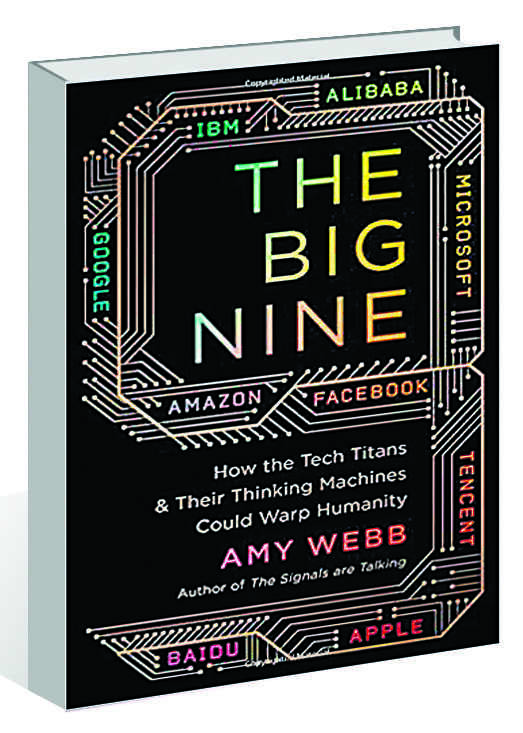 Joseph Jude
What happens when a system built by a small group of people make decisions for everyone? What if short-term market gains and ambitious geopolitical aspirations of a nation coerce such a group? Amy Webb tries to find answers to these tough questions in this gripping book.
Webb is a professor of strategic foresight at New York University's Stern School of Business. She is also the founder of the Future Today Institute in Philadelphia. She has lived and reported from China, gaining far deeper insight about China. Webb applies this extensive experience to interweave the ramifications of Artificial Intelligence (AI) with geopolitical ambitions of China to spell out the promises and perils that lie ahead.
Webb makes three significant points in the book: current development track of AI is at odds with what's best for humanity; China's investment into AI is a threat to democracy; we can avert a catastrophe if we act now. AI experts work predominantly in big nine companies. Webb abbreviates them as G-MAFIA and BAT—Google, Microsoft, Facebook, IBM, and Apple are from the US, Baidu, Alibaba, and Tencent are from China. As an insular group, they infuse their biases of the world into the systems they build. In the absence of guiding principles, technologists building AI systems, are following a dangerous belief, "build it first, and ask for forgiveness later."
China has emerged as a powerful economic and geopolitical force, too powerful to ignore or subvert. Chinese leaders are executing long-term, unified AI plans. These bold moves in AI will stimulate growth across all industries, propelling China to accumulate more potential to influence global geopolitics and our planet's ecosystems. China's views on privacy may become a model in other countries to create an obedient populace. Such a move could destabilise markets, trade, and the geopolitical balance, eventually leading to Americans living in China's Digitally Occupied States of America.
The future we all want to live in won't just show up, fully formed. We must take bold actions to shape such a future. The best way to engineer a change is to create a global alliance to cooperate on AI initiatives. This international body should include AI researchers, sociologists, economists, game theorists, and political scientists. The agency should persuade companies working in AI, to build technology that advances human interests without putting humanity at risk. Webb prescribes certain tactical measures that this AI body should undertake. Two of these measures are relevant because of recent events. She recommends creating an interoperable Personal Data Records (PDR), a single unifying ledger that includes all data we create digitally. Users should be owners of such a ledger and not any single company. These companies should also stop using flawed corpora (training data sets) that are full of bias. Instead, they should share the costs of creating new unbiased training sets.
Not all futuristic books are a delight to read. This book is an exception. You don't have to know AI to follow the book. The narration is lucid. Webb imagines three likely futures depending on the boldness of our actions. Her recommended actions are practical and plausible.
Top News
The move comes ahead of Prime Minister Narendra Modi's visit...
India offers to build transport networks in Central Asia; ta...
Ashish Mishra, son of Union Minister of State for Home Ajay ...
Police say that based on a complaint, an FIR has been lodged...
At 8.56pm on Monday, the troops hear the sound of a drone fr...