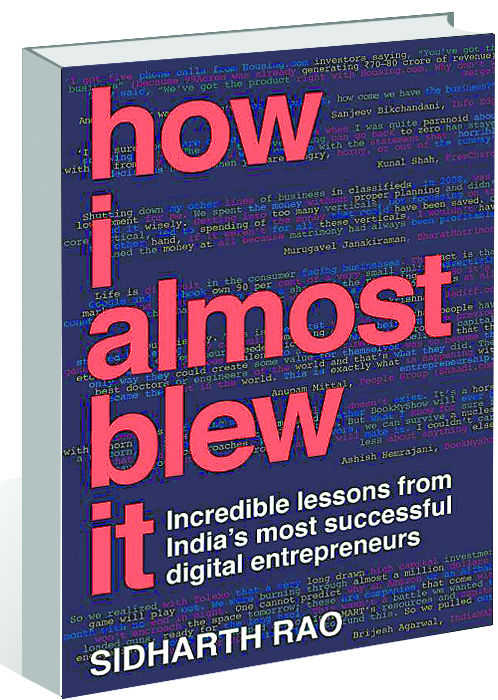 Joseph Jude
Sidharth Rao's book showcases startups that had a near-fiasco experience but survived to tell a Cinderella story. The book has hit the newsstands as the country is poised for grander aspirations. If India has to punch beyond its weight to enter the elite club of $5-trillion economy, then it needs innovative products, services, and business models. For such a leap, it is gainful to learn from the pioneers who chose to journey the unknown path, faced formidable challenges, almost gave up, but in the end withstood, and ended as success stories.
Sidarth Rao, a debutant author, is an investor and an entrepreneur himself. So he knows pertinent and piercing questions to ask the entrepreneurs. He probes gently and let them talk. And they do talk. The book reads like a conversation the reader has with 17 stellar men.
Yes, they are all men. There is no woman on the list. So here is a vital lesson the country needs to learn if not already learned from the Mars mission: raising women's participation in the economy will propel the country far beyond our imagination.
Rao could've arranged the book topically, but that would have turned it into a boring textbook. Instead, he dedicates a chapter to each entrepreneur. Between the 17 chapters, the reader will learn every aspect of starting, scaling, pivoting, and exiting a startup, but in a lively manner. Being a founder himself, Rao has yielded to the temptation of sprinkling his own story throughout the book. This in itself is not a bad thing if the readers could recognise the speaker of certain parts of the book.
Many startups in India are usually knockoffs of something original in the US. Do all copy-cats work? No. Each idea has to be tailored to Indian demographics, consumer needs and choices.
The first mistake most entrepreneurs make is establishing the market size, as Deepinder Goyal of Zomato, Sahil Barua of Delhivery and Ashish Hemrajani of BookMyShow found out. India is a deceptive market, it looks much larger than it is. You see a billion and a half people in India and visualise the country's market to be massive. What matters for an internet business is the number of people who connect to the internet and use online platforms.
Only the top 15 per cent of India (around 150-180 million) are earning an average of Rs 30,000 per month and left with a disposable balance after buying monthly necessities. Thus, for Zomato, Dubai and India are similar markets by size. If you are considering starting an internet business in India, this insight itself will save you a few years of hardship.
True to its title, the book discusses rough and tough startup topics, be it founder conflicts, funding mistakes or diversification faults. Each founder frankly explains the reasons behind the decisions they made, how some decisions dragged them to chaos, and how they recovered from those blunders, at a substantial cost. Every discussion is a valuable lesson in startup survival.
"It was a series of happy accidents" is another phrase that founders chant through the book. Timely selling of ventures just before the dot-com bubble, competition losing their lead because of the delusional founder, board member siding with the founder in conflict are some of the lucky things that happened with founders that contributed to their success along with their hard work.
"Startups are a great thing for our country," says Ajit Balakrishnan of Rediff.com in the book. The era of large companies with 10,000 employees is coming to an end. In India, the corporate and organised sectors do not account for more than 12-13 per cent of all employment. The vast majority of Indians are engaged in small business and farming.
Startups may be the harbinger of hope for the Indian economy to grow. If the government frames suitable policies, startups have the potential to serve as the resilient backbone of our economy. Lessons that Rao has painfully captured in this book will become guiding principles for the next wave of startup founders in India. The book is a timely read for those who wish to launch their business ideas in India.
Top News
The House is adjourned till noon
Sidesteps Indian concern over first arms package to Pakistan...
East Delhi District Magistrate Anil Banka says an evacuation...