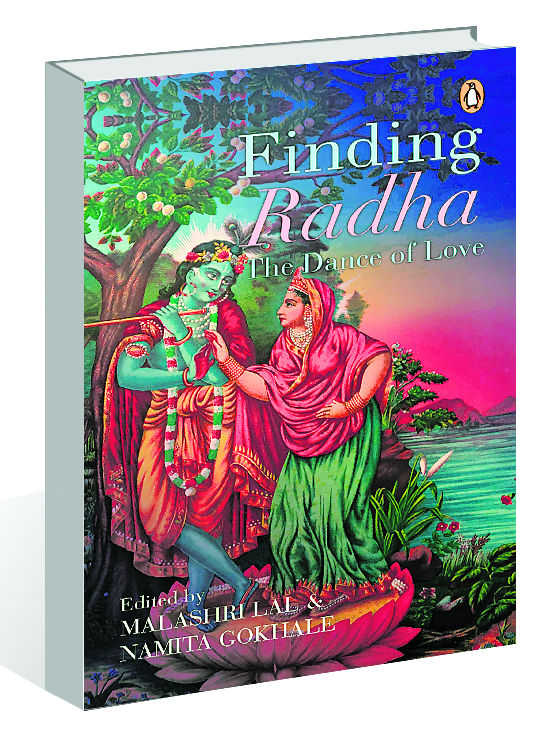 Aradhika Sharma
Radha is the embodiment of love most delicate, sublime, selfless and ecstatic. Nowhere do you experience it more than on a visit to Mathura-Vrindavan, where people greet each other with a 'Radhe-Radhe'. In this bastion of Hinduism, the love of the divine milkmaid for her lord, which challenged every acceptable norm, is celebrated in its most significant temples in myriad ways, imbuing the Ras leela with such immediacy that it could be happening in the present. The famous Bankey Bihari temple, the unitary form of Radha-Krishna (the single black charming idol that you see today) is worshipped as Banke Bihariji.
The need for Shyama by Shyam is explained by Meghnad Desai in the chapter, Radha and the Completion of Krishna, thus: "Krishna needed one woman whom he cared for over all others. One who could pine for him and make him miserable if she were to neglect him… without Radha, Krishna is incomplete and hence not fully divine. Radha completes Krishna."
Radha, Krishna's beloved, the twin soul of the Lord, combines bhakti and shringara as no other Indian goddess does. It is said that Krishna cannot be won over in any other way but by the way of pure bhakti yoga or supreme surrender. Radha symbolises this pure surrender. The Lord is thus united with her for eternity. In her introduction, Gokhle says that when Radha left her body, "...his (Krishna's) flute fell silent. Infinitely saddened, yet secure in her presence within him, he broke the flute into two and threw it away. He never played the flute again, but the melody to Radha remained ever in his heart."
The aptly named anthology, compiled by Lal and Gokhale, attempts to discern the mystique of the milkmaid of Gokul, Krishna's consort and favourite gopi, who seized the imagination of so many writers, poets, musicians, painter and sculptors across the span of centuries. Essays by eminent theologists, historians and scholars like Devdutt Pattanaik, Jawhar Sircar, Meghnad Desai, Makarand R Paranjape, Kapila Vatsyayan and Alka Pande to name a few, feature in the anthology and explore the various aspects of the Radha-Krishna lore.
Translations of verses, songs, stories and articles from various languages — Bengali, Sanskrit, Tamil, Maithili, Braj and Hindi — lend immense value and authenticity to this important work. The poems include translations from Jaydev's intimate verses from Gita Govinda and the Padavali poems by Bhanusingh (pseudonym of Rabindranath Tagore). There are excerpts from Sri Radha by renowned Oriya poet Ramakanta Ratha wherein Radha repudiates that she is the playmate of Krishna and poems by Kazi Nazrul Islam, the national poet of Bangladesh. Facets of Radha's personality are explored by various poets and artists down the ages and, variously, she emerges as Laxmi, the consort of Lord Vishnu and Shakti, the symbol of unity and power.
The stories about the widows of Vrindavan are touching. The Blue Necked God is a weird tale of a group of widowed Radheshyamis, who transform into an avaricious pack against an unsuspecting young woman. In Radhe Radhe, Madhureeta Anand recounts an episode describing the experience of making a film on widows playing Holi in an ashram in Vrindavan, wherein they dance with ecstasy, joy and celebration while revelling with their divine master.
Alka Pande says "Radha epitomises bhakti and love in every aspect — from spiritual to physical". Emblematic of shringara rasa, of eroticism, romance and total surrender, Radha Rani continues to inspire devotees, lovers, artists, writers and poets as she waits endlessly for her lord and lover in the gardens of Vrindavan where the divine lord and his beloved would "merge together like the petals of an unopened bud."
The anthology is a well-researched and resourced one, fascinating in the 'Radha vignettes' it presents. There's even a section on Radha in Bollywood. Here, Alka Kurian explores the allegory of Radha in films like Ram Teri Ganga Maili, Sangam, Mughal-e-Azam, Bajirao Mastani, etc.
The most paradoxical goddess, who is technically parakiya (married but loves another man) is herself elevated to divinity and worshipped because 'the object of her love is the God Krishna'. Thus, Radha is still an enduring symbol of ultimate devotion, yearning for union with the godhead. And that is why she continues to inspire imagination, romance, creativity, art and love.
Top News
Cane growers will get Rs 391 per quintal, says Bhagwant Mann
Polling draws to a close | Counting of votes on Dec 3
The data showed Punjab had only four days in 2023 where fire...