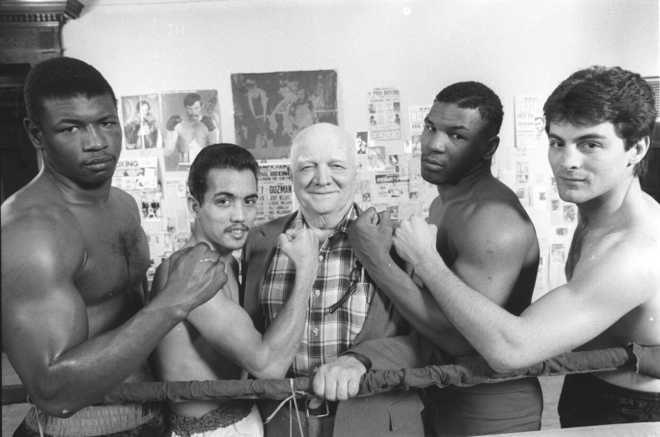 Rohit Mahajan
Fear pervades this book — fear, and the conquest of it. No surprise, because this book is from probably the most fearsome boxer in the history of the sport.
At 13, Mike Tyson was a very nasty piece of work. At nearly 90 kg, he was stocky and incredibly strong. He could wring your neck if you stared at him or beat the crap out of you if you had money or gold that he wanted.
And then he met a man who made him nastier — nastier, but with a purpose. He could be nasty only in the boxing ring; the purpose was to become a warrior, the scariest boxing warrior in history.
Cus D'Amato was this man.
Tyson, the fearsome and incredibly strong teenager, had a secret. He was mortally afraid. He knew it was commonplace for teenagers to die violent deaths in his part of New York. They could get shot by an intended robbery victim or knifed by other gangsters. He was scared of getting a beating. "I was scared of getting beat up. I was scared of letting people down, but it all came down to the fact that I didn't want to be humiliated," he writes of his first serious fight as an amateur.
Tyson had a fragile ego. He had zero self-esteem. He couldn't look people in the eye while talking with them. He knew he was a "bum", a loser with no education, a black kid with no real prospects except an early death by knife or gun. He had practically nothing.
But he did have something — he had the instinct of a hunter, the strength of a horse. He had the power of a heavyweight and the hand-speed of a lightweight. Cus, the moment he set sights on the 13-year-old sparring with a grown-up man, saw all that. In Tyson, he saw his third world champion. He took Tyson under his wing and tutored and mentored him into a boxing champion. Cus channelised the anger and hurt in Tyson and converted the young hoodlum into a fearsome boxer.
We all know the Tyson story. In this book, Tyson tells the Cus story.
Without Cus, Tyson would probably have been dead as a teenager.
But Cus needed Tyson equally. Without Tyson, Cus would have been dead much earlier than the 77 years he lived. Cus kept Tyson alive, and Tyson kept Cus alive. After Tyson's first fight as a pro, Cus was asked what difference Tyson had made in his life. His answer, the essence of the lessons he'd learnt in 75 years, was remarkable. He said: "If it weren't for him, I probably wouldn't be living today. See, I believe nature's a lot smarter than anybody thinks. During the course of a man's life he develops a lot of pleasures and people he cares about. Then nature takes them away. It's her way of preparing you for death. See, I didn't have the pleasures any longer. My friends were gone, I didn't hear things, I didn't see things clearly, except in memory… So, I said I must be getting ready to die. Then Mike came along. The fact that he is here and is doing what he is doing gives me the motivation to stay alive."
Cus didn't live to see his prediction, made when Tyson was 13, come true — he was dead when Tyson, at 20 years and 4 months, became the youngest ever heavyweight boxing champion.
How Cus made Tyson a great fighter is recounted in this very engrossing book. Cus, the son of an Italian immigrant, had a chip on his shoulder — he believed that in the US, the life of an Italian was worthless. His brother was killed by an off-duty Irish-origin cop, his mother died for want of good medical care. "Cus was hard and cold and talked about racism in this country as if he was a bitter black man," Tyson writes.
Cus felt completely the anger of the young Tyson. He adopted him, became a father to him, and made him a fearsome warrior. He played Svengali, shaped Tyson's thoughts and opinions and his very mind. He made Tyson. What a story!
Top News
The 58-year-old OBC leader served as minister for higher edu...
Article 370 was a temporary provision, says CJI as Bench pro...
NC leader Omar Abdullah expresses 'disappointment', but vows...
All newly elected MLAs told to compulsorily attend the meeti...
BJP retained power emphatically in MP in the November 17 Ass...