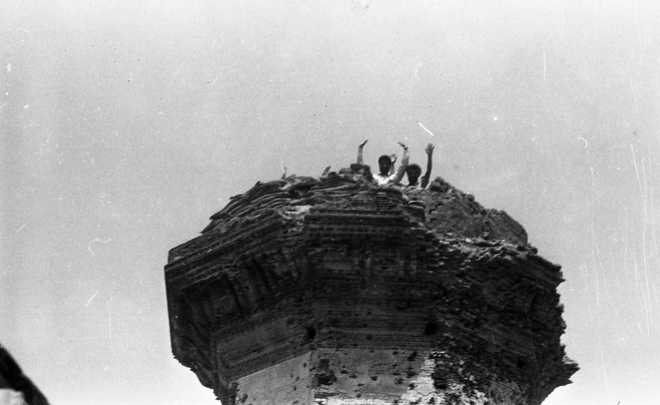 Roopinder Singh
There is a 1984 in all of us who have lived through that particularly torturous decade in Punjab — it affected everything and everyone connected to the state. Those whose involvement was more than peripheral find it difficult to let go, to move on, and even when they do, they find a powerful urge to tell the story, the one that they have in them. Some of them manage to do so and the author is one of them.
Time moves at a different speed in the midst of action. The 1980s was when Punjab seemed to be marching inextricably towards an apocalyptic future, as the confrontation between the organs of the state and the 'boys' or ugarwadis, as the followers of Sant Jarnalil Singh Bhindranwala were known, deteriorated into a bloodbath that scarcely left any family in Punjab untouched.
The year is 1982 and life in Moranwale village moves along at a languorous pace, the protagonist Fareed, tall, fair, with light brown eyes and a straight sharp nose, marks the summer vacation of Class X with his friends, by casting a covetous eye on fair lasses, one Khushwant in particular. Horsing around inevitably leads to more physical displays, and returning home Fareed has the usual apprehensions of a child who has done mischief — he fears his father who has a propensity of drinking and then taking up the cane, with his mother (Fareed's) being the main victim. Fareed's brother Randhir, now Randy, has migrated to San Jose, the Punjabi conclave in California, and his sister is still at home.
Fareed spends his time in the company of elders, including Babaji, a JCO, who retired as an honorary Captain. He has "opinions that are treated with respect by all. He reads the English Tribune." Through the news he learns of what is going on in the outside world. Not that anyone at that time was unaware of the rise of Bhindranwale, the cult of militancy around him, killing of innocent people, and all that. Grapevine has always been a tried if not trusted source of information. From a simple village boy seeing his friends join the ranks of the militants and becoming one is a transition that many a Punjab boy of the time made.
Studying this phenomenon is a Delhi-based journalist, photographer, Sikand. Unconventional, cerebral and successful, he seeks to understand the situation. He explores the Anandpur Sahib Resolution, for any seditious content and finds none. He talks to his sources, and through the contradictions of what he hears, becomes more and more embroiled in what he sees as an intractable situation. His mother would have liked him to be a Sikh, like she was, but he does not identify with the religion, or any religion for that matter. Yet, what happens in Punjab and to the Sikhs matters to him. His role in the book is to give a distance and perspective to the narration, something that he does with varying degrees of success.
The story, as it meanders through various characters and locales, allows us vignettes of the complex reality that particular time of history was. Sikand interviews the Sant and is held hostage, just as his Amritsar reporter is held by the police. He survives the Army assault, and in his hands rests the fate of one of his captors. He returns to Delhi, but it has changed in his absence, as has the magazine he co-founded. "History is a river whose course can only properly be charged from the shore," says the author. Those who experienced the events that led to Operation Bluestar and its aftermath, including the Delhi riots, have a foxhole view, but they feel that their story should be shared.
The author, a Panjab University alumnus, rose to high positions in the police, serving in Delhi and Goa. Her brave attempt at fictionalising a painful past from the torn pages of history deserves to be read, even as the reader wonders at what has been held back. It will contribute to the growing body of work that seeks to understand the 1980s in Punjab through fact and fiction.
Top News
Public has returned Rs 3.42 lakh crore or 96 per cent of the...
This comes amid a diplomatic row between India and Canada ov...
Doraiswami was on Friday stopped by a few radicals from ente...
Was speaking to Indian journalists in Washington
Rinda died due to alleged drug overdose at a military hospit...