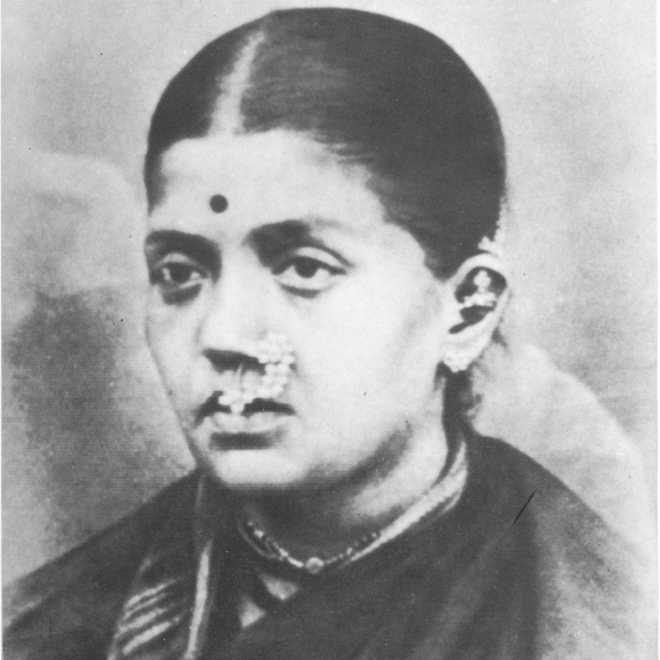 Ratna Raman
Written by Lakshmibai Tilak, Smritichitre is an autobiographical work in Marathi that was serialised in four parts in the magazine Sanjivini from 1934-1937. Lakshmibai began writing it when her son requested her to put down memories of her life with his father. Shanta Gokhale's English translation carefully edits out long sections of Vaman Tilak's extensive poetry, ensuring that Lakshmibai's voice rings through the narrative, recounting her experience as an upper-caste Hindu woman in colonial India and her subsequent conversion to Christianity. Two powerful autobiographies precede this book, one is Rassundari Devi's Amar Jiban (1876) and Pandita Ramabai Saraswati's High Class Hindu Woman (1888).
Smritichitre (a Sanskrit word meaning memory pictures) tells us about the early life of Manakarna Gokhale, born into an orthodox Chitpavan Brahmin family in Maharashtra. The life of this little girl, her siblings and her mother makes for a terrifying narrative. We meet a large, extended family, presided over by a whimsical patriarch who subjects everyone to the tyranny of purity and pollution rituals, orchestrating endless beatings for imagined offences and endless baths in the river and the constant washing and purifying of everything. The head of the family pulverising and controlling all other members of the household is common to the lives of undivided Hindu families all over India. Younger men had a bad time but women confined within householdsinvariably were worse off.
Lakshmibai Tilak, nee Manakarna, (1868-1936) is married off to Narayan Vaman Tilak (1861-1919) when she is all of eleven. Both have patriarchal ancestors who are ancient, eccentric, primitive, overbearing and exercise control in ways quite removed from bourgeois families in contemporary times. Narayan Vaman Tilak is ill-treated and beaten by his father, upper caste and orthodox, who also brutalised his wife and precipitated her death.
The narrative records a life lived in what continue to be major cities in Maharashtra, such as Nashik, Ahmednagar and Satara. Manu is subjected to harsh treatment by both her father-in-law and her husband and recounts occasions wherein her husband gives her a "pounding,'' leaves her in the house for long periods with little money, without any form of communication and gives away all their possessions to the needy.
What is it that allows us to read page after page of Lakshmibai's narrative, recounted from memory when she was quite old? Its simple anecdotal narration and colloquial richness does not hide or disguise. The quality of ironic inflection describes a way of life and allows us access to a world that is no longer available to us. A buoyant sensibility and a sense of humour dots stories that could have become morbid or depressing.
This is not the autobiography of a pioneering woman who single-handedly broke boundaries and transformed her life. She tolerates her husband's erratic and unacceptable behaviour that could perhaps be attributed to his own brutalisation as a young boy. The book shows a woman deeply in love with her husband, who learns and is guided by him, although, on countless occasions, she really does not share his perspective. Her devotion to Narayan Vaman Tilak makes her take on the task of fulfilling his great dream of writing the Christayana after his death. She adds 64 chapters to the 10 he had written originally. The book does not, however, degenerate into a maudlin or hagiographic account of this major poet of Maharashtra but portrays him with all his foibles and eccentricities.
Smritichitre's relevance and significance lies in its record of the details of a long life and the attention that it pays to the quotidian life, providing a wonderful entry point for those of us in subsequent centuries. Lakshmibai allows us to participate in her tumultuous life, lacerated by poverty, violence, illness, disease and a lack of education in the latter half of the 19th century and the first three decades of the 20th century, revealing the pressures of living within orthodox communities, in a colonised land.
One may not share Vaman Tilak or Lakshmibai's religious convictions, but one can only be humbled by the consistency with which they put aside personal ambitions and material comforts and the paraphernalia of caste hierarchies for a life of learning, poetry song and prayer, not in a bohemian paradise, but in the hostile heartlands of deprivation. Both accept a shortage of money and resources and overlook being ostracised, to make life better for the disempowered.
Lakshmibai makes a niche for herself as a singer of kirtans and a writer of charming poems. She maintains her links to her clan and also forges innumerable friendships outside of the community, while raising her children and others.
She works as a hostel warden after her husband's death, and lives in Karachi briefly, babysitting grandchildren while her daughter and daughter-in-law go to work. At Vaman Tilak's death, Pandita Ramabai extends assistance and the two women meet briefly. Dearly loved and inspiring, with never a trace of bitterness, Lakshmibai's last days were spent visiting friends and relatives, and watching a Bombay talkie before she succumbed to influenza, in a nation beset by civil strife and unrest, looking for solutions to its entrenched orthodoxy.
Top News
Action taken under relevant Section of Unlawful Activities (...
Says wants it to commit constructively to establish facts
Blinken says it is 'important for India to work with the Can...
Adhir Ranjan Chowdhury, the Congress leader in Lok Sabha, sk...
After shopkeeper fails to deliver phone on promised date, he...