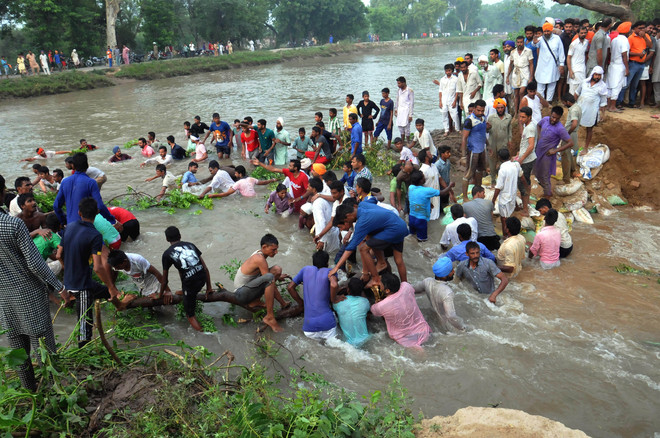 editorial@tribune.com
Tribune News Service
Bathinda, June 22
Over 100 acres were flooded in Gobindpura village here following a breach in the Sirhind canal today. Baazigar basti that has 90 houses was submerged under five feet of water.
The National Disaster Response Force (NDRF) team, which was stationed 2 km away from the spot, reached in more than an hour. The villagers reached the site around 5 am to plug the breach. The locals alleged the state government did not repair the canal even though they knew monsoon was around the corner. Sources revealed the state government had not released regular annual maintenance funds for the repair of the embankments of the canal since 1999.
Sources said the breach that occurred around 5 am widened up to 15 feet. While the district administration officials reached the site around 6.30 am, the NDRF team arrived around 8 am.
The NDRF senior officials claimed they were to act only in life threatening incidents. Upkar Singh, Executive Engineer, Bathinda Irrigation Department, couldn't explain why the breach occurred. He was on leave.
Boota Singh Jathedar of Gobindpura village said the crop on 65 acres had been completely damaged. Sub-divisional Magistrate (SDM) Damanjit Mann said they were yet to order a girdawari. He said the Senior Engineer of the Irrigation Department would probe the reasons behind the breach.
This is not the first breach that has occurred in the area. On May 11, a breach near Bir Talab village caused damage to cotton crops. On March 9, a breach in the same canal at Marhi minor flooded 250 acres in Mehraj village of the district.