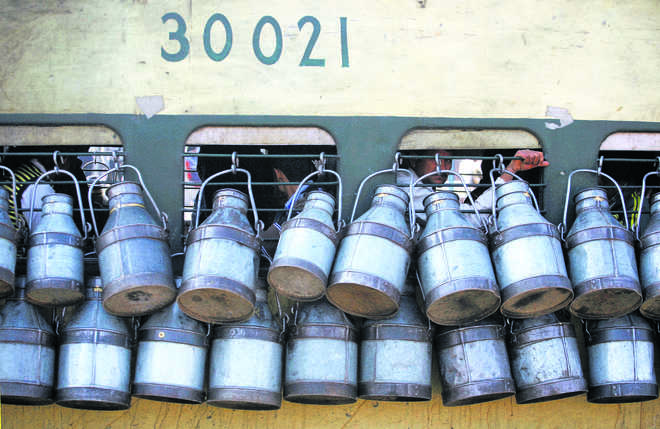 laxmi@tribune.com
DURING my childhood days in the early sixties, I helped my mother distribute freshly churned lassi among women from landless families of our village. This was a common practice in most households where surplus milk was used for making ghee as selling milk was taboo, and was considered akin to 'selling a son' in rural Haryana. This taboo exists no longer in the changed socio-economic scenario where the dwindling farm income has led farmers to seek maximum possible gains from milch animals for their subsistence.
The percentage of agricultural labourers, compared to cultivators, surged from 28.1 to 54.9 in the country due to fragmentation of land from 1951 to 2011. On a total household income basis, 22.5 per cent of the farmers were found living below the poverty line in 2011-12, almost one out of four living in penury. Most of them draw sustenance from livestock, widely accepted as an engine of growth in farm economy due to its consistent performance over decades. This sector has rightly drawn attention in the government's initiative for 'Doubling Farmers' Income' by 2022. The district-level livestock income of households, based on a 2014 survey, varies widely, maximising up to 74 per cent, across regions and states. Dairying, the main component of the livestock sector which contributes 70 per cent of its Gross Value Addition, has moved from subsidiary to subsistence role. The ownership of milch animals ranging from single to five supports more than three-fourths of rural households, producing 95 per cent of the country's milk. The reason for wide income variances from dairying is the prevailing extensive yield gap — a concept recently adopted in livestock productivity from agronomic assessments that compare observed yields with maximum potential yields under certain agro-climatic conditions for a particular area. The yield gap in dairying can be bridged through the matching of inputs and services, improvement in technical efficiency and adoption of more productive technologies such as better animal breeds.
Stumbling blocks
The yield gap in dairying is quite distinct across states, districts and households in the country. The comparison of survey data from major milk-producing states in each locality from each region has revealed an average gap of 49, 43 and 34 per cent for crossbred cattle, indigenous cattle and buffaloes, respectively. In the states, the average yield gap up to above 2 kg per animal per day exists among the districts. A study conducted by the Indian Council of Agricultural Research (ICAR) in 2012 found that bridging the yield gap among districts can increase milk production by 41.2 per cent. The yield-gap closure on a herd composition basis (replacing nondescript or indigenous cattle with crossbred and/or buffalo) can almost double milk production, which translates into that much more money in the hands of farmers. Narrowing the gap at the state level is easier due to identical agro-climatic conditions and the politico-administrative set-ups. The yield gap is ascribed to poor genetic potential of animals; shortage of feed and fodder; inadequate veterinary and extension services; and lack of infrastructure and supporting governance mechanisms.
Genetic upgrade
A majority of the bovine population, 59 per cent of cattle and 43 per cent of buffaloes, belongs to nondescript breeds which are genetically incompetent for productive efficiency. The challenge and opportunity exist in converting them to defined indigenous dairy breeds or crossbreds with exotic breeds through breed development and artificial breeding programmes. Indigenous breeds provide an advantage of adaptability in the long run, considering the tropics and climate change. The economically important earmarked local breeds should be targeted for time-bound genetic progression. The artificial insemination services, currently covering 30 per cent of the animals with a conception rate of 40 per cent, require extensive expansion, providing doorstep delivery with accountability. The expansion of the artificial breeding programme will require an increased number of high genetic merit bulls and bull mothers for producing high quality, disease-free manifold doses of semen. Digitised herd registration and breeding records with symmetrical animal identification will be the core requirement for effecting and monitoring genetic progression. Replacing the traditional time-consuming progeny testing and pedigree selection programmes with newer, more accurate genomic selection tools for determining estimated breeding values will expedite the achievement of the goal.
The trends from the Livestock Census 2012 indicate preferred buffalo-rearing against crossbred and indigenous cattle-rearing. This preference is due to the existing knowledge base and high comfort level with their rearing practices compared to the high input and higher risk involved in crossbred cattle-rearing. Buffalo milk is also preferred in the market due to double the fat content than cattle milk. The ability to cull and sell unproductive animals for meat purposes provides increased economic incentive, contrary to cattle. Promoting the rearing of high-quality buffaloes and expanding avenues for culled buffalo utilisation will facilitate bridging of the yield gap. Breeding programmes, therefore, need to be geared towards genetic upgrade of nondescript buffaloes. The genetic progression would increase productive bovines, obviating the pressure of increasing population of unproductive animals on already stressed natural resources of feed, fodder and water.
Feeding practices
Multiple studies have corroborated that 50 per cent of the yield gap can be bridged by scientific feeding alone, which reportedly has an even greater impact on increasing milk productivity than breed improvement. In the interventions applied at the state level, crossbred cattle and buffaloes have given better yield-gap closure results with efficient feeding than indigenous cattle. Feeding green fodder in adequate quantity and in a planned manner can overall reduce the cost of production as feed and fodder account for about 70 per cent cost of milk production. The availability of quality feed and fodder and adoption of balanced ration feeding, therefore, present a lucrative option for boosting farmers' income.
The deficit level of dry fodder, green fodder and concentrate in the country as per 2012 estimates is close to 11.35 and 45 per cent, respectively, which constraints milk productivity. With shrinking landholding, depleting water resources, the availability of quality feed and fodder has increasingly become a challenge. Animals thrive largely on dry fodder comprising crop residue, extremely poor in nutritive value on its own. In the northwestern parts of the country, straw is burnt in the fields; crop residue is also being diverted for industrial use in packaging and brick-making. The problem of stray cattle also hampers commercial fodder production. A majority of milch animals depends on mixes of concentrates produced on the farm, as per availability and affordability; compound cattle feed (CCF) usage is limited to 11 per cent of the total dairy feed. The CCF, which mainly comes from the unorganised feed industry, lacks quality control mechanisms and risks composition from poor-quality ingredients with low nutritive value and adulterants such as ground rice husk, maize cobs, sawdust and non-edible oilcakes.
Straw management
Straw can be utilised efficiently by manufacturing densified complete feed blocks or pellets on an industrial scale. Based on the productivity level of the animals, these blocks or pellets can be manufactured using different ingredients, including minerals, vitamins and feed additives. Regional feed disparities can be tackled by setting up 'feed banks' of such blocks or pellets. The increased green fodder availability can be ensured by the dissemination of improved cultivation technologies, access to quality-fodder crops seeds with recommended agronomic practices specific to agro-climatic conditions and techniques for fodder conservation. Community green fodder cultivation is the way forward for organised dairy producers.
The availability of CCF produced under stringent quality control regulations, enabling tracking measures in production and distribution chains, should be ensured. The availability and usage of special feed supplements to manage regional mineral imbalances in fodder and concentrates, heat stress during peak summer and reproductive disorders due to nutritional deficiencies should be promoted.
Veterinary services
Efficient veterinary services are crucial to economical dairying as diseases hit the production system, cascading low yield, low income and compounding the treatment costs. Presently, veterinary and livestock extension services are in the public domain, under the state animal husbandry departments which are not structured to deliver doorstep services. The animal population coverage earmarked per veterinary centre is very large. There is a need to provide quality veterinary services encompassing a multitude of support systems like breeding, feeding and extension on the farmers' doorstep. The focus should be on preventive veterinary care with mass vaccination and deworming programmes. Networking and organising smallholder farmers through cooperative or corporate systems can facilitate provisioning such services on contractual basis with service provider veterinarians and para-veterinarians.
The state governments should provide diagnostic support and livestock extension services through the availability of accredited veterinary laboratories and exclusive Pashu Palak Kendras on the Krishi Vigyan Kendra pattern, respectively, at each district headquarters. As the number of veterinarians and para-veterinarians, considering the population and area coverage in India, is far less than in the major milk-producing countries, there is a requirement to strengthen the existing veterinary colleges and establish additional colleges, including a model veterinary college region-wise that follows international standards of veterinary education.
It is established that market linkages decisively and promptly favour bridging the yield gap in the case of unorganised, smallholder farmers. It helps not only by ensuring the best milk rates but also by enhancing productivity and reducing cost of production. These linkages are vital for the timely availability of quality inputs and services at affordable costs. Only 21 per cent of the milk produced in the country is presently handled by the organised sector, equally shared between dairy cooperatives and private dairy organisations. The exponential expansion of dairy cooperatives, reaching out to much larger number of smallholder farmers, is the immediate requirement. The corporate sector should be promoted equally to enhance its capacity in milk procurement and processing. Entities like Farmer Producer Organisations, self-help groups, dairy hostels etc. hold promise of extending benefits of economy of scale in production as well as marketing.
Ensuring a remunerative price to farmers for milk is pivotal to sustainable dairying. This is possible by creating milk demand matching increased production and keeping the cost of production globally competitive. A vast scope exists for boosting domestic consumption. International markets provide a significant export opportunity in value-added products like butter, cheese and enriched milk. Awareness and adoption of stringent food safety standards, required in production chains, will facilitate it. During the unfavourable market period leading to a slump in milk rates, the smallholder farmers' hand needs to be held by the government through trade protection and minimum support price.
A mechanism for periodic fixation of region-wise cost of milk production for tracking market volatility and possible interventions is required to be established.
The basic prerequisites for bridging the yield gap in dairying are: adequate investments, facilitating policies and conducive governance mechanisms. It would, therefore, be necessary to prioritise dairying for investments from the public and private sectors. The systemic issues restraining credit and insurance in dairying need to be resolved as their penetration remain abysmally low.
Beefing up coordination among state agencies like departments of animal husbandry, dairy development, livestock development boards, veterinary and agricultural universities will facilitate increased productivity in the sector.
The existing governance and institutional mechanisms in the states, as well as the Union government, need to be oriented towards the livestock sector.
The new government has taken commendable decisions by appointing a Cabinet-rank minister for the first time for animal husbandry, and a veterinarian as a Minister of State. Also, in the first Cabinet meeting itself, the universal animal vaccination programme for two major diseases with total fiscal support has been approved. Continued focus, with the right approach, is likely to bridge the yield gap in dairying and boost farmers'income.
Rashtriya Gokul Mission
The mission was launched in December 2014 with an outlay of Rs 2,025 crore for the development and conservation of indigenous breeds through selective breeding, especially for genetic upgrade of 11.3-crore 'low milk yield' nondescript bovine population. Its duration is from 2014-15 to 2019-20.
Objectives of the mission
To promote indigenous cattle-rearing and conservation in a scientific and holistic manner.

To enhance productivity of indigenous breeds and increase economic returns from animal products in a sustainable manner.
To propagate high genetic merit bulls of indigenous breeds.
To enhance breeding coverage through strengthening breeding network.
Source: Department of Animal Husbandry and Dairying, Govt of India
The author is former Additional Director General, Remount Veterinary Services
Please send your feedback to infocus@tribunemail.com
All readers are invited to post comments responsibly. Any messages with foul language or inciting hatred will be deleted. Comments with all capital letters will also be deleted. Readers are encouraged to flag the comments they feel are inappropriate. The views expressed in the Comments section are of the individuals writing the post. The Tribune does not endorse or support the views in these posts in any manner.