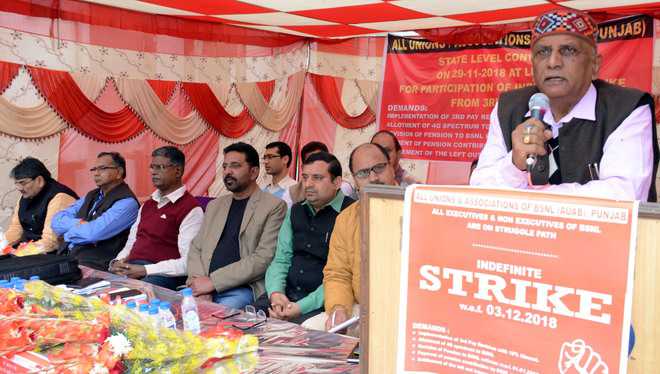 editorial@tribune.com
Tribune News Service
Ludhiana, November 29
The members of various unions and associations of the Bharat Sanchar Nigam Limited (BSNL), today declared to go on indefinite strike in support of their various long pending demands. All the executives and non executives of the BSNL would take part in the strike. The BSNL employees would launch the strike on December 3 and it would continue till their demands are met.
An announcement in this regard was made during a meeting of various unions and associations of the BSNL employees here today.
The main demands of the BSNL employees include implementation of 3rd Pay Revision, allotment of 4G Spectrum to BSNL, revision of pension to BSNL retirees, payment of pension contribution by BSNL employees, settlement of left out issues, etc.
Addressing a meeting of the employees here today, the BSNL Employees Union (BSNLEU) District Secretary Comrade Avtar Singh Jhandy said the government had paid no heed towards various long pending demands of the BSNL employees despite repeated reminders. "The BSNL employees organised several protests in support of their demands in the past. Every time, we were assured that our demands were being looked into and they would be fulfilled soon, but the fact is that nothing concrete has been done in this regard so far," said Jhande.
He added that even series of protests and strikes held by BSNL employees during the past failed to move the government. The BSNL employees said they would sharpen their struggle further in the future in case their demands were not met.