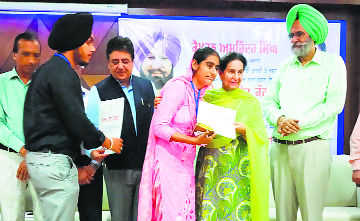 Under 'Ghar Ghar Rozgar' mission of Punjab Chief Minister Capt Amarinder Singh, Punjab Government is committed to provide jobs to youth of the state. This was stated by Patiala Member of Parliament Preneet Kaur while handing over appointment letters to 145 dependants of deceased employees of PSPCL on June 30. She disclosed that PSPCL has already given employment to 890 dependants of deceased employees of the PSPCL from April 2017 to March 2019. Earlier, PSPCL CMD Baldev Singh Sran said that the coporation will fill 5,363 posts of different categories in near future.
MMDU Law College secures top ranking
MMDU Law College has secured a coveted place in the top 10 list of private law colleges in North India, according to an assessment done by the prestigious group 'The Week'. In the same report, MMDU has also been placed in the top 50 list of law colleges of India.
Students of Abhimanu IAS excel in PCS 2019 exam
Abhimanu IAS has once again proved its excellence in PCS 2019 exams, the results of which were declared recently. Over 40 students of the institute were selected in the PCS examination this year. Ms Kusum Bansal, Additional Commissioner of Income-tax, Mumbai, felicitated the toppers of PCS (2019) at a function held in Chandigarh recently.
'AsliHappyness Wala Sale' at Elante till August 15
Elante Mall has rolled out a shopping extravaganza 'AsliHappyness Wala Sale' which will offer assured attractive prizes to all its shoppers. The sale commenced on June 15 and would conclude on August 15. The mall began this sale bonanza to reward their shoppers for shopping with them by giving away assured vouchers on shopping of Rs 2,500 or above.
Liebherr wins 'Product of The Year 2019' award
German refrigerator manufacturer Liebherr, within the first year of its India operations, has been recognised by "Product Of The Year Award 2019", which is the world's largest consumer-voted award for product innovation. It is an internationally recognised certification that celebrates the best innovations in consumer products and services.
DAV Dental College, Yamunanagar, observes Doctor's Day
The Haryana government celebrated Doctor's Day on July 1 where Chief Minister Manohar Lal Khattar Heath Minister Anil Vij interacted with doctors through video conference and boosted the morale of doctors and encouraged them to work honestly and freely for the welfare of society. A video conference and interaction with doctors was also held DAV Dental College, Yamunanagar. Dr Inder Kumar Pandit, Principal, DAV(C) Dental College, Yamunanagar, was honoured for his exemplary services in the district.
Reliance Jio adds maximum number of users in Punjab
Reliance Jio continued to remain the undisputed market leader in Punjab with highest customer base of 1.22 crore subscribers, adding around 1.5 lakh subscribers in April as per the latest telecom subscription data released by telecom regulator TRAI.
HDFC Bank launches recruitment programme
HDFC Bank, in partnership with Manipal Global Academy of BFSI, has launched Future Bankers program (#futurebankers), which aims to turn young graduates into highly-trained, well-groomed, customer-facing personnel. It entails on-campus learning, an internship, and a full-time job opportunity at the bank on successful completion. It is a full-time residential course where participants spend the first six months at Manipal Global Academy of BFSI's campus and the last six months with the bank as an intern.
Avon launches Korean beauty sheet masks
Avon has launched Korean sheet masks, developed by Korean skincare experts with ingredients such as cica, chagas, shiitake and matsutake mushrooms, which are extremely popular in Korea because of their skincare benefits.
OnePlus bags 'Superbrand for 2019' status in India
OnePlus has been recognised as a Superbrand for 2019 by Superbrands India. Superbrands is the world's largest independent arbiter of branding and pays tribute to the strongest and most valuable brands in the world through an intense process of selection. OnePlus achieved a high average consumer score placing it among the top 5% of scores received by brands across all categories.
Westside announces end of season sale
Westside has announced its end of the season sale at its store in Bathinda. Shoppers can avail up to 60% discounts on apparel, footwear, accessories, and cosmetics. The sale will last till July-end. Westside offers a wide range of contemporary and exclusively designed apparel for women and men.
Adidas launches Senseboost Go
Adidas has launched Senseboost GO which is suitable for city runners. The shoes have a lightweight knit upper that follows the natural movement of the stride. The wide platform provides support for lateral movement, and responsive cushioning returns energy with every step.
Ride-hailing application inDriver now in Chandigarh
After revolutionising urban travel in 22 countries, inDriver - a new ride-hailing app - has announced the start of its recruitment process in Chandigarh. This will give drivers a chance to enjoy the unique benefits of this application and compare its advantages with its competitors. What sets inDriver apart from other such apps in this sector is its ability to allow both drivers and riders to independently negotiate the fare in real time without any intermediary.