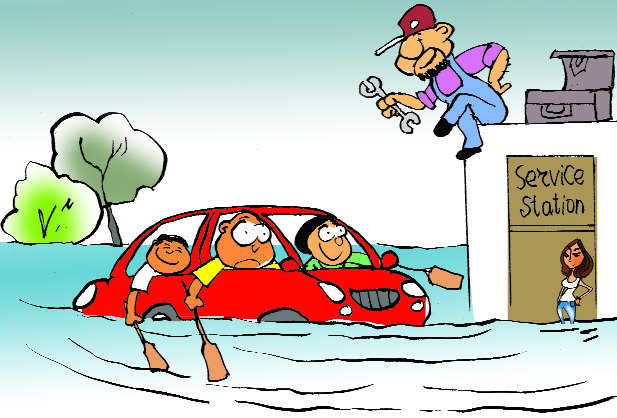 Vijay C Roy
Tribune News Service
Chandigarh, August 23
Heavy showers in the region for the past few days have forced scores of vehicle owners to visit nearby service stations for repair of their damaged vehicles. Due to rains, water has entered into vehicles (either in the cabin or engine), resulting in damage to certain parts.
According to rough estimates, thousands of cars and two-wheelers were damaged due to deluge caused by heavy rains. It is difficult to ascertain the exact number of vehicles damaged as vehicle repair is entirely dominated by the un-organised sector, which includes roadside shops and mechanics.
However, both the organised and un-organised sector are witnessing a heavy rush of vehicles affected by flood-like situation in certain parts of Punjab, Haryana and Himachal.
"On an average, we are getting nearly half a dozen cars daily. Most of these vehicles are damaged due to incessant rains. Normally, in most of the vehicles seats or upholstery is damaged, while in some cases, engines of the vehicles have also been damaged," said Jitender Singla, partner, Paras Motors, Patiala.
On being asked about the vehicles coming to repair shops, a senior executive working with an organised service centre said, "There are vehicles which were completely submerged in water but their number is low. A majority of the vehicles coming to service centres or repair shops are those who were partially submerged into water."
If the parts are not damaged, then the roadside repair shops or service stations charge anywhere between Rs 1,500 and Rs 10,000 for dry cleaning and drying the car. This is apart from cost of relacing damaged components.
In case the engine is damaged, then the owner has to cough up anywhere between Rs 20,000 and Rs 1 lakh depending upon the car.
The executive said if a car owner tries to restart the car which had broken down after submerging into water, he or she is at higher risk of damaging their vehicle. This is not covered under the 'engine protection' clause in different car insurance policies.
"The customers whose vehicle engines are damaged due to floods are not entitled to compensation if he has not taken engine protection cover," said Anil Grover, proprietor, Grover Service Station & Spares, Ludhiana.
He said, "In such case, the policy holders should buy a comprehensive policy with 'engine protection' cover to avoid inconvenience at later stage".
"The disbursal of insurance claims for damaged vehicles is being done according to the policy of the respective insurance company whether the owner of the vehicle has opted for engine protection clause or not," he added.
Besides roadside mechanics, two-wheeler service centres, too, have been flooded with vehicles for repairs.