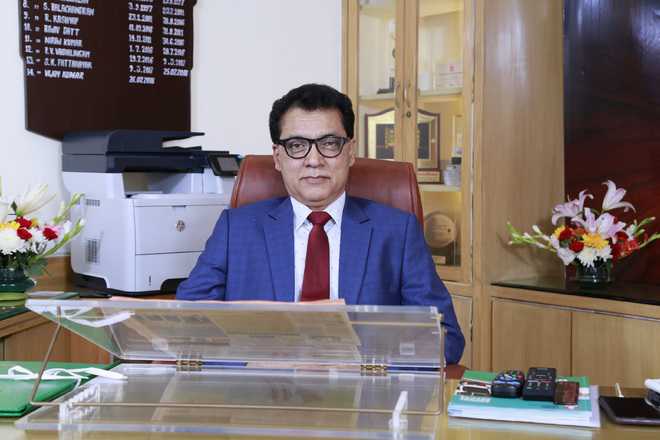 Amitabh Banerjee has been appointed managing director of Indian Railway Finance Corporation (IRFC), a financing arm of the Indian Railways, for mobilising funds from domestic and overseas capital markets. Banerjee, an IRAS cadre officer of 1988 batch, is a fellow member of the Institute of Cost Accountants of India. He has been working as director (finance), Konkan Railway Corporation Limited since October 2013.
Somany Ceramics unveils new bathware appliances
Somany Ceramics has launched water heaters and is eyeing this segment of bathware appliances for its future growth. The company is confident that over a period of time, it will emerge as a significant revenue contributor considering the size and growth of this industry. The size of the bath fitting industry is Rs 2300 crore, split equally between organised and unorganised players, and is growing at 15% to 18% per annum.
Sochi Tourism forays into Indian market
Often called the unofficial 'Summer Capital' of Russia, Sochi is the Russia's biggest and busiest summer sea resort town. Destination Sochi marks its first step in Indian market and LINKIN Reps will be the official representative for Sochi Tourism in India. Sochi is the country's biggest and busiest summer sea resort, attracting more than four million visitors annually with its amazing mountainous coastline, endless shingle beaches, warm sunny days, and bustling nightlife.
Elante Mall's initiative for underprivileged children
Elante Mall's 'Happyness Wali Diwali' initiative has enlightened the lives of 100 underprivileged children in and around the city. The retail hub sold 12,000+ recycled diyas out of 25,000 that were collected last year post Diwali celebrations in association of an NGO based in Chandigarh. This initiative aims at developing skills among the underprivileged children of 5-16 years of age. With this initiative, the mall aims at skill development and sustainable living and contributing in the overall growth of the society.
P&SB hockey team wins Indian Oil tournament
Punjab & Sind Bank (P&SB) has won the 36th Indian Oil Servo Surjit Hockey Tournament for the 11th time. The tournament was held in Jalandhar recently. The Punjab & Sind Bank team defeated Indian Oil via penalty shoot out with a 6-3 margin. At the end of the stipulated time, the teams were locked at 2-2. Gaganpreet Singh of Punjab & Sind Bank played brilliantly and grabbed best player of the tournament award.
NIUA delegation visits NBCC project in Delhi
A delegation of National Institute of Urban Affairs (NIUA) comprising around 50 scholars and researchers recently visited NBCC's East Kidwai Nagar Redevelopment Project in New Delhi, as part of their ongoing project titled 'Sustainable Healthy and Learning Cities and Neighbourhood (SHLC)' under the Ministry of Housing and Urban Affairs, Government of India. The delegates interacted with NBCC officials in order to gain insights, address urbanisation challenges and understand the functioning of the project. They appreciated the sustainable accounting and environment-friendly measures taken up by NBCC.
OBC total income up 14.8% in Q2 FY19-20
Oriental Bank of Commerce has recorded a business of Rs 3,89,409 crore in the second quarter ended September 30, achieving a Y-o-Y growth of 9.58%. The total advances grew to Rs 1,64,207 crores (Y-o-Y growth of 10.27%). The total deposits increased to Rs 2,25,202 crore and registered a Y-o-Y growth of 9.09% in the period under review. Total income increased by 14.80% to Rs 5,702 crore during Q2 FY 2019-20 from Rs 4,967 crore during Q2 FY 2018-19.
Maharatna status conferred on Power Grid Corporation
Power Grid Corporation of India Limited (Powergrid) has been conferred with the coveted Maharatna status by the Government of India. This was announced recently by Union Minister of State for Power, New & Renewable Energy RK Singh at the 30th raising day function of the company in New Delhi. The Maharatna status provides enhanced powers to the Board of the company to facilitate expansion of operations, both in domestic as well as global markets. Powergrid, the third largest CPSE in India, is also the third largest transmission company globally.
Reliance Industries sets up arm for digital platform
Reliance Industries Limited (RIL) has set decided to set up a wholly owned subsidiary for digital platform initiatives and invest Rs 1,08,000 crore in the new company through optionally convertible preference shares. The digital platform company will acquire RIL's equity investment of Rs 65,000 crore in Reliance Jio Infocomm Limited (RJIL) and house all digital assets. This move will make RJIL net debt-free company by March 31, 2020, with the exception of spectrum-related liabilities.
GoAir maintains record in on-time performance
GoAir has maintained the distinction of most-punctual airline in September, according to latest data released by Directorate General of Civil Aviation (DGCA). According to the data, GoAir registered 85.4% on-time-performance, the highest among domestic airlines. "The airline flew 13.27 lakh passengers with barely 0.12% cancellation as against an industry average of 1.37% for domestic airlines," said Jeh Wadia, managing director, GoAir.
Ludhiana Police brass meets top industrialists
Ludhiana Commissioner of Police Rakesh Agarwal, DCP Ashwani Kapur, ADCP Deepak Pareek and Assistant Commissioner of Police Sandeep Vadhera recently visited Avon Cycles Ltd to have one-on-one meeting with industrialists to discuss ideas on steps that can be taken for the betterment of city's law and order and traffic management system. Avon Cycles CMD Onkar Singh Pahwa and executive director Mandeep Pahwa welcomed the guests.
Jaguar Lighting awarded in consumer durables TVC
Jaquar Lighting has won DAC-SAARC 2019's silver award in the consumer durables TVC category. The TVC featuring Deepika Padukone was released on major TV channels in 2018 and had been very well received by consumers, amassing over a million views on YouTube in less than a year since its release.
Ujjivan Small Finance Bank launches 'Smart Kirana Plan'
Ujjivan Small Finance Bank (USFB) has introduced 'Smart Kirana Plan' for department and kirana stores to enable them grow their businesses manifold this festive season. Store owners can save up to 86% of their existing cost. "The plan also includes free 'Point of Sale' machine along with installation and special discounts on rentals. The plan also offers 0% Merchant Discount Rate up to Rs 30,000 worth of transactions every month," said Sanjay Kao, chief business officer, USFB.
McDonald's launches McSaver combo meal
McDonald's has launched McSaver combos at a starting price of Rs 59 (inclusive of taxes). The McSaver combo meal includes a burger or a snack with select beverage. The three-month long value menu campaign seeks to build the brand affinity that consumers have with McDonald's as a great value brand offering variety and a differentiated restaurant experience.
Wartsila wraps up its CSR project in Bawal
Wartsila India has concluded its CSR project at Government Senior Secondary School in Karnawas village, Bawal, Haryana. The project was undertaken to address the issue of insufficient infrastructure and lack of water and sanitation facilities at the school. This project was undertaken as part of Wärtsilä's CSR initiative 'Gyan' which aims to support the education of underprivileged children and improve school infrastructure in the backward areas.
OnePlus announces offline partnership with Redington
OnePlus has announced its partnership with Redington (India) Limited, a global IT and Mobility distributor. In line with its retail expansion plans, OnePlus is growing its offline presence across several regions in India. With the much-anticipated partnership, customers can now experience and buy the latest devices across many more offline stores across the nation. Union Sports Minister Kiren Rijuju launched Free Fire India Today Gaming League at Siri Fort Auditorium in New Delhi recently. Chairman and Editor-in-Chief of the India Today Group Aroon Purie is also seen in the picture.
Top News
The accused ASI was nabbed by local people, who then handed ...
Two frontline combat aircraft of the IAF crashed during a tr...
Gandhi was accompanied by his sister and Congress general se...
PM Modi also appreciated people for eating food items made o...