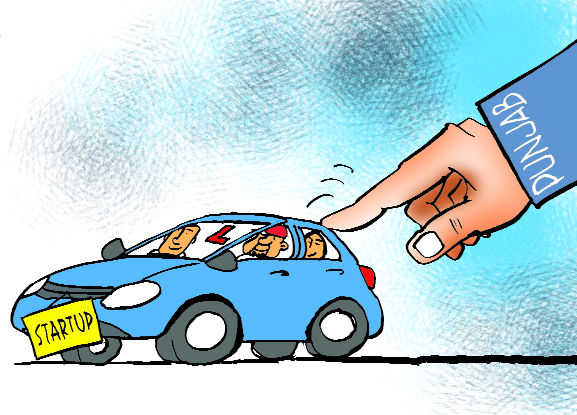 Vijay C Roy
Tribune News Service
Chandigarh, August 29
Notwithstanding lack of startup ecosystem in the region, the Punjab government is mulling all options for building an entrepreneurial culture in the state by fostering linkages across industry and academia.
Taking a step in this direction, the state government is working on modalities to sign an MoU with the IIT, Ropar.
According to Rajat Agarwal, CEO, Invest Punjab, Startup Punjab is working on an MoU with the IIT, Ropar, to provide pre-incubation facilities to students of Punjab who exhibit entrepreneurial proclivities.
Recently, it partnered with Yes Bank to create opportunities that can propel the growth of startups in the state. The MoU will enable the bank to extend a plethora of services, product offerings and mentorship guidance to startups that are currently registered with Startup Punjab.
There are 118 startups listed with the Department of Industrial Policy and Promotion (DIPP) and Startup Punjab.
Last year, the state was a notch above north-eastern states such as Manipur, Mizoram, Nagaland, Sikkim, Tripura, which were ranked at the bottom as per the State Startup Ranking Report released by the Department of Industrial Policy and Promotion (DIPP), Government of India.
Agarwal said the state government plans to create conducive ecosystem for startups by implementing a policy and a framework that enables entrepreneurs to scale their businesses, and by creating the necessary infrastructure required for promoting entrepreneurial activities. This is done by fostering industry-academia linkages for boosting the startup ecosystem in the state.
For example, the state government is working with Software Technology Parks of India (STPI) to set up the Startup Punjab Hub which will serve as a single point of contact for the entire startup ecosystem and will provide state-of-the-art incubation and mentorship facilities.
A Centre of Excellence (CoE) is coming up at STPI, Mohali, which will offer services related to data analytics, audio visual graphics and Internet of Things (IoT). The proposed centre will cater to all teething needs of new ventures.
Also, it is supporting the Union Government in setting up a startup centre in Amritsar.
To motivate the startups, the state government, through its Startup Punjab Cell, is organising events that will provide entrepreneurs an opportunity to solve business challenges. Startup Punjab has partnered with Thapar Institute of Engineering and Technology, Patiala, to organise a Hackathon on August 30-31.
Fostering startups
No of startups: 118
Current tie-ups with:
Yes Bank, STPI
in pipeline: MoUs with IIT, Ropar, Startup Hub, Hackathon.