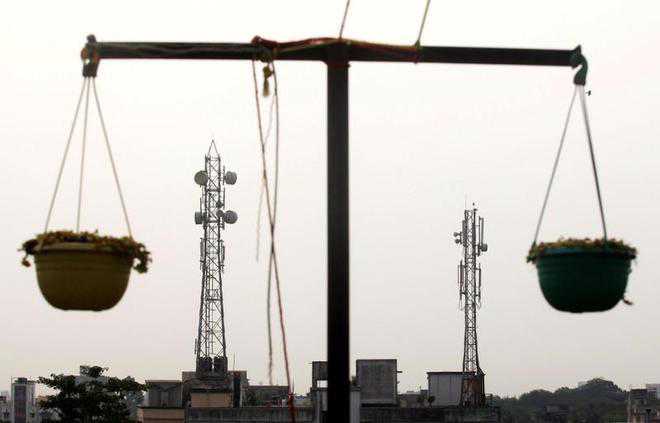 Tribune News Service
New Delhi, April 25
Bharti Infratel and Indus Towers on Tuesday agreed to merge in a deal that will create the world's No. 2 telecom tower company with an estimated equity value of $14.6 billion.
Seeking to capitalise on rapid growth in smartphone usage in the country, the transaction, which values Indus Towers at roughly $10 billion, will create an infrastructure giant with more than 1,63,000 towers, lagging only China Tower.
Bharti Airtel and Vodafone will jointly control the merged entity, the two companies said. The combined company, which will fully own the respective businesses of Bharti Infratel and Indus Towers, will change its name to Indus Towers Limited and will continue to be listed on exchanges.
The transaction is subject to regulatory and other approvals, including from the Competition Commission of India, the Securities and Exchange Board of India, National Company Law Tribunal, Department of Telecom (FDI approval), and is expected to close before the end of the fiscal year.
"Indus Towers will be merged with and into Bharti Infratel through a scheme of arrangement. Following deal completion, the board of the combined company will comprise of 11 directors, of whom three will be appointed by each of Bharti Airtel and Vodafone, one will be appointed by KKR/Canada Pension Plan Investment Board and four (including the Chairman) will be independent," Bharti's statement said.
Bharti Airtel, which currently owns 53.5 per cent in Bharti Infratel, will get 33.8 per cent to 37.2 per cent stake in the combined entity. Its shareholding is dependent upon what Aditya Birla Group's Idea and Providence do with their minority shareholding in Indus Tower. Vodafone India will get between 26.7 per cent and 29.4 per cent of the Indus-Bharti Infratel combine.
Vodafone has 42 per cent stake in Indus Tower. Bharti Infratel too has an equivalent stake while the remaining is with Aditya Birla's Idea (11.15 per cent) and Providence (4.85 per cent).
"The combination of Bharti Infratel and Indus Towers, with their highly complementary footprints, will create a pan-India tower company with the ability to offer high-quality passive infrastructure services to all operators on a non-discriminatory basis, needed to support the pan-India expansion of wireless broadband services," it said.
Under the deal, Idea has the option to sell its 11.15 per cent stake in Indus for cash at the merger ratio that values the stake at Rs 6,500 crore. Bharti Infratel agreed to pay 1,565 of its own shares for each Indus Tower share. Vodafone India will receive 783.1 million shares in the combined company, valuing the UK-based firm's stake at Rs 28,400 crore. If Idea decides to sell off of its stake and Providence sells 3.35 per cent of its 4.85 per cent shareholding, the new entity will be 37.2 per cent owned by Bharti Airtel and 29.4 per cent by Vodafone, while 1.1 per cent will be with Providence and the rest by public shareholders. — PTI