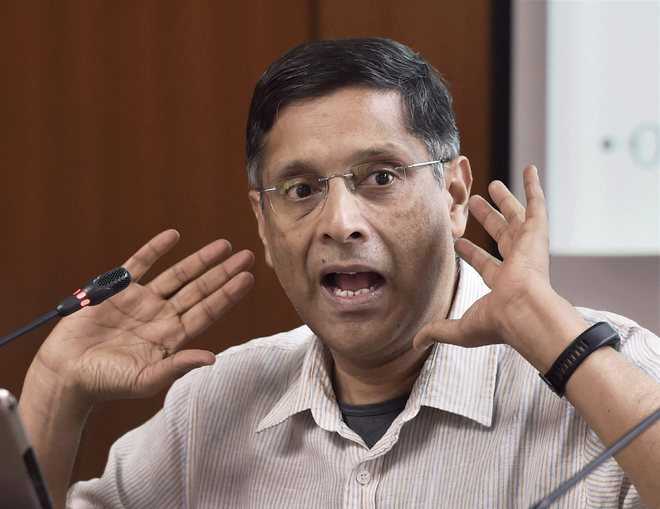 Sanjeev Sharma
Tribune News Service
New Delhi, October 25
A day after the government announced a massive Rs 2.11 lakh crore bank recapitalisation plan, Chief Economic Adviser (CEA) Arvind Subramanian called the initiative "firing a Brahmastra" to address the challenges of stressed assets and weak banking balance sheets. He also made a case for consolidation in the banking space saying the country ideally should have 5-7 large lenders.
Speaking at SGTB Khalsa College here, the CEA said along with earlier action taken to address the indebtedness problem in the corporate sector, this can be expected to have a significant impact on the economy, boosting credit, growth and employment.
He said, "The public-to-private lending model has proved toxic. We want to be careful before we repeat that experiment again." "We have found that exit is especially difficult when PSBs lend to private companies. Once the bad lending occurs, getting out is difficult for fear of being seen as favouring certain groups." In the future, one view is that it may be better to have more private-to-private lending and even private-to-public lending, Subramanian said.
He said the new component of the bank fund infusion package is the issuing of Rs 1.35 lakh crore as "recapitalisation bonds". It is likely that the recap bonds will be placed with the banks for which the government will get an equivalent holding of equity in the banks, he said. The true fiscal cost of issuing the Rs 1.35 lakh crore recap bonds is the interest payment of about Rs 8,000-9,000 crore, he said. On whether these will add to the deficit, the CEA said under IMF norms recap bonds don't add to the fiscal deficit but under India's convention they would.
Top News
German Foreign Ministry hopes 'democratic principles' will b...
were seized from boat off gujarat coast in 2022