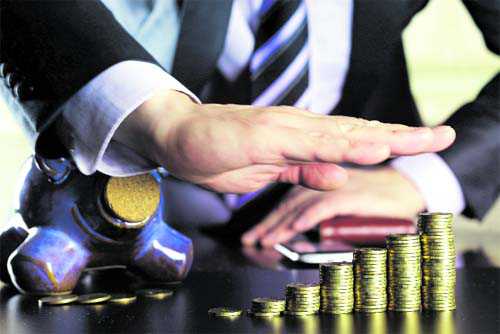 Harshendu Bindal
The Organisation for Economic Co-operation and Development (OECD) defines financial literacy as a combination of financial awareness, knowledge, skills, attitude and behaviour necessary to make sound financial decisions and ultimately achieve individual financial well-being.
Simply put, financial literacy is all about being 'financially smart'.
Why do we need financial literacy
Firstly, it helps us to efficiently articulate the path that our money needs to take once it enters our bank account. It also helps us assess the risk of various investment avenues better and mitigate the fear of investing in market-linked capital market instruments. For example, a financially literate person understands that derivatives are far riskier than direct stocks, which, in turn, are far riskier than equity mutual funds. Without financial literacy, all three would have been clubbed in the same basket and one would have mostly refrained from investing in any form from the fear of losing money.
It is the financially illiterate that are targeted by ponzi finance schemes operated by 'fly-by-night' operators wherein gullible investors have poured lakhs and crores in lure of high returns.
Besides this, there are some simple day-to-day examples which point to the need for better financial literacy. For example, if an investment has doubled in six years, some may say the returns are 16.67% per year or 100% in 6 years (100% / 6 years = 16.67%) when the actual returns are 12.3% compounded annually. The financially illiterate falls prey to higher returns shown by such calculations while the financially literate, in contrast, ends up questioning the period of compounding (whether quarterly or half yearly). Thus financial literacy not only lies at the bottom of the pyramid but across the wealth hierarchy though the proportions may vary.
How does financial literacy help
I have observed that most Indians follow a one-size-fits-all approach when it comes to investing. The preference is for stereotype investments like gold, real estate, bank fixed deposits and postal savings. While gold and real estate are long-term investments, the rest are used on an 'as and when needed' basis. There is no concept of goal-based investing. The biggest risk of an 'aggregated' approach like this is that many a times investments end up being utilised for early or front-end goals with very little left for rear-ended goals like retirement. Part of the long-term investments like gold and real estate too get used for 'big expenses' like weddings in the family or other exigencies.
Financial literacy helps one to move from an 'aggregated' investment approach to a 'segregated' investment approach wherein each goal is backed by a separate investment portfolio. Though it may not have a big theoretical backing, the 'segregated' approach is practically better as there is no overlap or spillover happening from one goal to another. Along these lines, financial literacy helps to understand the risk-based approach to investing meaning thereby that one should invest in less risky investments in the short term and target relatively riskier avenues like equity for the long term and benefit from their higher wealth-creating potential for crucial goals like child's education/marriage, retirement, etc.
Unlike those who feel that equity markets are risky, a financially literate person would understand that one can invest in equities through mutual funds which are professionally managed. One can further reduce risk by increasing the tenure of equity investments to 5, 10, 15 or 20 years to reduce the chances of any negative returns. One also builds awareness about facts like 'one must not time the market' but invest in small amounts regularly and over the long run.
One must also be aware of tax efficiencies (post tax returns) which financial literacy clearly highlights. While returns from traditional investments are taxed every year, returns from mutual funds are taxed only on redemption. Further, returns from equity funds are tax-free after one year while debt funds enjoy the benefits of indexation which is nothing but paying tax only on returns earned over and above inflation.
Even when it comes to insurance, traditional insurance is the favourite while term insurance is discouraged as the premium is non-refundable. But, one does not look at the larger cover from term insurance for the same premium. Financial literacy is needed to communicate that insurance is for protection or risk mitigation and not for investment. Thus there is a need to segregate investment and insurance.
Challenges to the spread of financial literacy
The poor financial literacy in the country is seen by the fact that mutual funds have been bought by only around 1.5 crore Indians so far. The biggest challenge thus is to change the investment psyche first from 'physical assets' to 'financial assets' and within financial assets from 'assured returns' to 'market-linked returns'. For example, the Employees Provident Fund (EPF) corpus is predominantly debt-oriented and declining interest rates would lead to a lower corpus for retirement which may not suffice the post- retirement phase. It is, therefore, important to adequately supplement this corpus by regular savings in market-linked investments like mutual funds which have the potential to provide higher inflation-adjusted returns.
What is the solution
Basics first
If we want our next generation to be financially literate, we need financial education to be part of school and college curriculum. The basic lessons of investments must be taught in school/colleges. Once again, it is important that this is not a tick-box initiative but students must understand the basic nuances of investments so that they can take informed investment decisions in future to meet their life goals.
Technology and social media
Technology and social media can be a big enabler in increasing the ambit of financial literacy. The mobile phone would be the key driver for this change. All stakeholders could pool resources and encourage 'fin-lit' startups to help build scale. Besides, technology can be used to spread financial literacy in a 'fun' way through games using mobile apps.
Public-private partnership
Increasing financial awareness in a large and diverse country like India will have to be a long-term effort built on a public-private partnership involving the government, regulators, industry associations, financial sector players like banks, mutual funds, insurance companies and financial product distributors.
Simplified messaging
The communication to investors must be very simple, consistent and de-jargonised.
The author is President, Franklin Templeton Asset Management (India) Pvt Ltd.
The views expressed in this article are his own