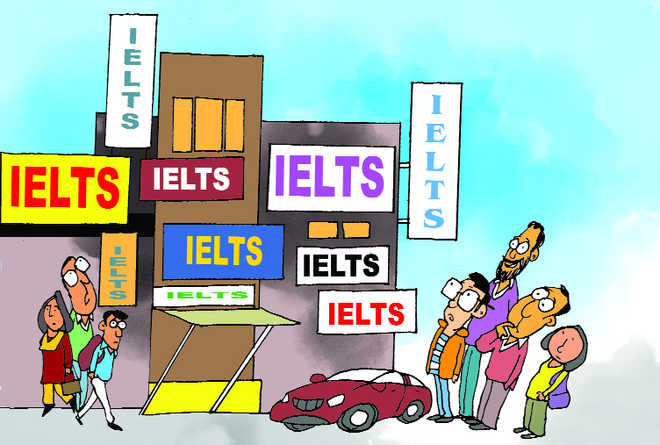 Vijay C Roy
Tribune News Service
Chandigarh, February 22
Nearly six lakh students from Chandigarh and Punjab are expected to appear for International English Language Testing System (IELTS) test this year. As overseas migration is becoming craze among the student community, the number of institutes offering IELTS coaching has quintuple in the past five years, making it a Rs 1,100-crore industry.
If a student wants to move abroad, he/she has to clear the IELTS examination conducted by the British Council or the IDP Education. IELTS scores are accepted by over 10,000 universities and employers in many countries, including Australia, Canada, New Zealand, Ireland, the United Kingdom and the USA. On the other hand, Test of English as a Foreign Language (TOEFL) — a standardised test to measure understanding of English language — is majorly recognised by the USA.
"The number of students going abroad has risen significantly in Punjab and Chandigarh. Last year (from July 17 to June 18), around 4.5 lakh students from appeared for the IELTS test. This year (from July 18 to June 19), we are expecting at least six lakh students to appear for the examination, a jump of 30% over the last year," said Piyush Kumar, regional director, South Asia — IDP Education.
According to estimates, there are around 5,000-6,000 coaching centres in Punjab and Chandigarh currently offering IELTS coaching with almost 95% of the institutes being operated by unorganised players.
The 5% institutes, which are in the organised sector, impart coaching to around 20% of the students aspiring to go abroad. These institutes charge between Rs 2,000 and Rs 20,000 per month for coaching. The average fee charged by the institutes is around Rs 8,000-Rs 9,000 per student per month. Normally, a student takes two months of coaching before appearing for the examination.
"In the past five years, the number of such institutes has grown by almost five times. The IELTS institutes have also made inroads into rural Punjab, as these areas are catching up with their urban counterparts to move abroad for a better life," said Ashutosh Anand, managing director, Touchstone Educationals. It has 19 centres in Punjab and Chandigarh.
In the region, Canada, Australia and New Zealand have been leading destinations for students.
According to immigration experts, the craze to settle abroad and fewer job opportunities in India are the major reasons for the growing trend of studying abroad.
To facilitate the students, IDP Education recently opened four computer-delivered IELTS test centres in Punjab. With these centres, students from Punjab will be able to get their IELTS result within seven days.
---
Coaching business
5,000-6,000
No of institutes
Rs 8,000-Rs 9,000/pm
Average fee
Two months (average)
Coaching tenure
Rs 960 cr-Rs 1,100 cr
Industry size
Top News
Gandhi was convicted on March 23 in the defamation case for ...
Situation in Sasaram and Biharsharif normal, say police
Notably, Shah's tour of Sasaram in Rohtas district has been ...
The untimely rains are expected to continue for a few more d...
The Kabul-born Durani played 29 Tests for India