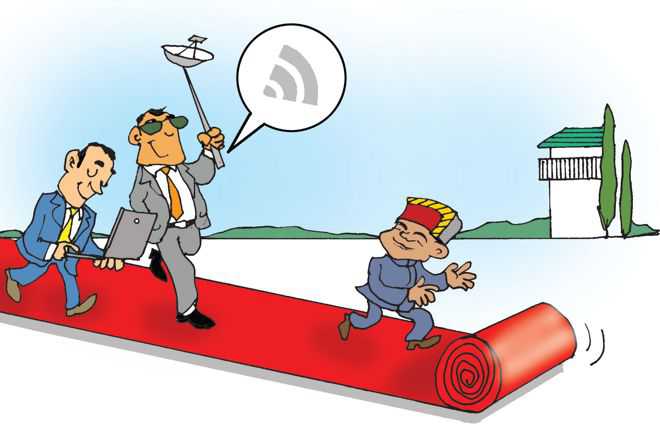 Vijay C Roy
Tribune News Service
Dharamsala, November 8
Recognising the enormous potential of IT/ITeS sector, the Himachal Pradesh government today unveiled IT/ITeS and ESDM Policy 2019 at the Global Investors' Meet. Under the policy, eligible firms taking space on lease for their operations in IT/multi-purpose SEZs, IT parks and designated technology parks will be provided lease rental subsidy of 75% for first year, 50% for second year and 25% for third, fourth and fifth year from the date of commencement of commercial operations.
The subsidy will be subject to a ceiling of Rs 15 lakh for first year, Rs 10 lakh for second year and Rs 5 lakh for third, fourth and fifth year. For the Electronics System Development and Maintenance (ESDM) enterprises and green data centres, lease rental subsidy will be up to 85%.
The state will also offer capital subsidy of 25% on fixed capital investment to the eligible industries. It will benefit startups and MSMEs which always grapple with funds to set up or expand their ventures.
"We have been approached by many IT and ITeS companies which are keen to expand their businesses or set up base in the state but it takes time to set up requisite infrastructure," said Rohan Chand Thakur, Director, IT, Himachal Pradesh.
The companies would also be exempted from payment of stamp duty, registration fee and change in land use charges.
Thakur said the eligible companies will also be given interest subvention of 5% on term loans with a ceiling of Rs 25 lakh per annum. The eligible enterprises will also be reimbursed 100% of net SGST paid to the state for seven years.
Currently, there are three IT parks in the state which are in various stages of development. However, these parks would at least take 2-3 years to commence operations.
On upcoming IT infrastructure in the state, he said, "We are setting up a Centre of Excellence (CoE) for high-end information technology in addition to the CoE in tourism and hospitality at Waknaghat in Solan. The total project cost is Rs 70 crore. It is being developed with the assistance of Asian Development Bank. The project is likely to be operational in a year and a half."
"The Software Technology Parks of India (STPI) is also expanding its base in Shimla and setting up another centre spread across 40,000 sq ft which will be functional in two years. It is also setting up second centre in Kangra which will be spread across 10 bighas," he said.
Top News
The minister inaugurates Chief Judicial Magistrate court, Ma...
'I am Rahul Gandhi, not Rahul Savarkar,' he said when asked ...
Former Union Minister Ravi Shankar Prasad says stay on convi...
The plea is filed by a Kerala-based social activist
After a wait of over two years, India will have a full-fledg...