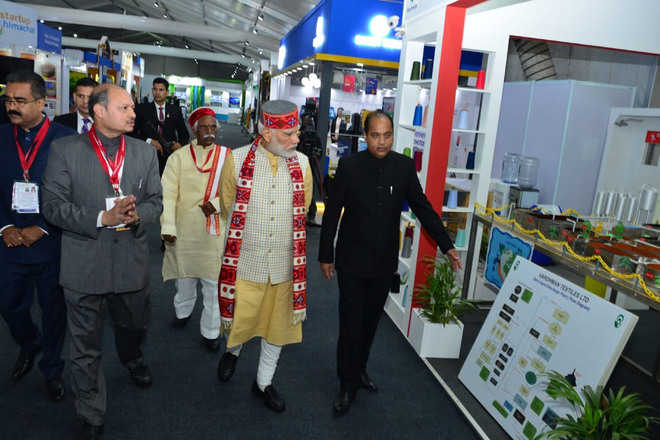 Vijay C Roy
Tribune News Service
Dharamsala, November 7
Buoyed by the response from its maiden Global Investors' Meet, the Himachal Pradesh government will soon set up an Investment Promotion Authority to facilitate investors looking for investment opportunities in the state. The state has signed 603 MoUs so far that will bring investment worth Rs 92,439 crore against the targeted Rs 85,000 crore.
Announcing this, Chief Minister Jai Ram Thakur today said this will go a long way in providing impetus to sustainable and inclusive socio-economic development in the state.
"The state government had set a target of attracting investment of Rs 85,000 crore but it has so far signed 603 MoUs worth Rs 92,439 crore. To give further impetus to the industry, the state would soon establish the Investment Promotion Authority," Thakur said.
Last evening, the Chief Minister held meetings with delegations of various industrial houses here and 20 MoUs worth Rs 10,095 crore were signed. The investors deliberated on their future plans for investment in various sectors.
Addressing the summit, he said Himachal was keen on developing the state as a hub of research and development in pharmaceuticals, thereby reducing the nation's import bill. He said pristine beauty, clean air, peaceful environment, cultural diversity and linguistic plurality make Himachal one of the most visited states in the country.
Many corporate houses announced their investment plans for the state. Bharti Enterprises' vice-chairman Rakesh Bharti Mittal said they had signed an MoU to invest Rs 1,000 crore in the IT sector. He requested the state government to reduce charges for laying fibre network as data consumption was strengthening across the state.
BRS Ventures' delegation led by its chairman Dr BR Shetty evinced interest in the development of tourism and hospitality sectors such as hotels and resorts, healthcare, plantation, orchards and agri business.
Dubai-based Lulu Group showed interest in hospitality, travel and tourism, export of fruits, horticulture and investment in cold storage. They also evinced interest in setting up procurement office, warehouse and farmer linkages for the export of apples, exotic fruits and vegetables.
Major announcements
Bharti Enterprises will invest Rs 1,000 crore in the IT sector for data fibre link and mobile connectivity
BRS Ventures evinced interest in the development of tourism and hospitality sectors, healthcare, plantation, orchards and agri business
Dubai-based Lulu Group showed interest in hospitality, travel and tourism, export of fruits, horticulture and investment in cold storage
GMR Group expressed interest in setting up Mandi international airport
Amazon showed interest in the promotion of Himachali handloom and handicrafts, exotic fruits and vegetables