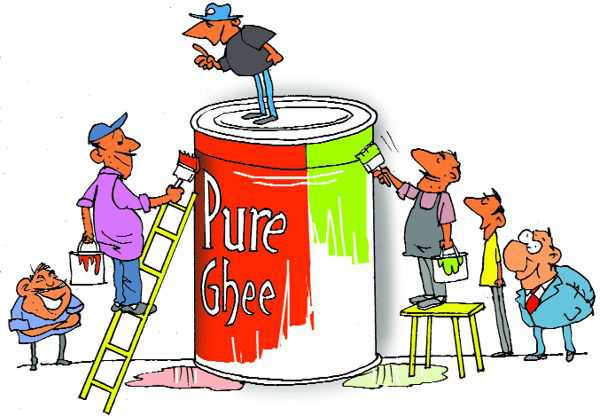 Balwant Garg
Tribune News Service
Faridkot, November 13
Reputed ghee brands such as Nestle 'Everyday', 'Uttam' and 'Nova' plan to frequently change their packing labels due to rampant sale of spurious desi ghee by unscrupulous elements who sell their duplicate products by coping packaging style of popular brands.
"Though the decision to change packaging of a brand may confuse the customer, we have no option to save the hard-earned reputation of our brands," said Supreme Agro Foods Pvt Ltd Managing Director Kulwant Singh said. The company sells pure ghee under Uttam brand.
Some companies have already changed their packaging after a huge quantity of adulterated desi ghee in fake packaging of Uttam, Nestle and reputed brands was confiscated from various parts of Punjab.
The 'Everyday' brand of Nestle, 'Uttam' of Supreme Agro Foods Pvt Ltd and 'Nova' of Sterling Agro Industries Ltd are some popular brands of desi ghee that saw the change days before Diwali to escape duplication.
"To further strengthen our packaging and to address the issue of counterfeit products, we have recently made changes to the packaging and the graphics. We are hopeful that the new graphics will prevent counterfeiting and help the consumer to distinguish between the actual and the counterfeit products," a Nestle India spokesperson said.
Nestle had been facing the challenge of duplicity of its brand name several times since 1961 when it set up its facility at Moga in Punjab.
Though colour has been a critical part of branding and for long Uttam had been recognised with distinct yellow-colour package, the company has been recently forced to change the colour to blue and brick red to save its consumers from duplicate products, Supreme Agro Foods sales manager Shiv Dutt said.
Other than changing the packaging colour, we are taking advantage of improvements in tamper-proof packaging in order to ensure that product reaches the consumer in perfect condition, he said.
Besides repacking the adulterated and spurious ghee in original packages, the dealers in this cheating business are even making duplicate packaging material of reputed brands to pack the spurious products. In a spurious desi ghee making scam, unearthed in Kotkapura last week, the police had impounded a large quantity of fatty chemical acid and maltodextrin, which was allegedly used to prepare duplicate desi ghee by making its infusion in hydrogenated refined oil.
Faridkot SSP Raj Bachan Singh Sandhu disclosed that the accused had sold over 70,000 kg of spurious ghee in the packaging of reputed brands in various parts of Punjab and neighbouring states this festive season.
Conducting raids at Kotkapura, Rampura Phul, Lehragaga, Jakhal, Ludhiana and Delhi, the police had recovered about 15,000 kg of spurious desi ghee, 50,000 kg of vegetable oil and about 42,000 litres of fatty chemical acid and 5,000 kg of maltodextrin, an inexpensive additive to thicken food products.
Top News
Says strength of democratic institutions to figure in discus...
BKU protests as sunflower not procured on MSP
Kuki insurgents target soldiers' camp in school
NCB unearths pan-India trafficking | 6 held, all in their 20...