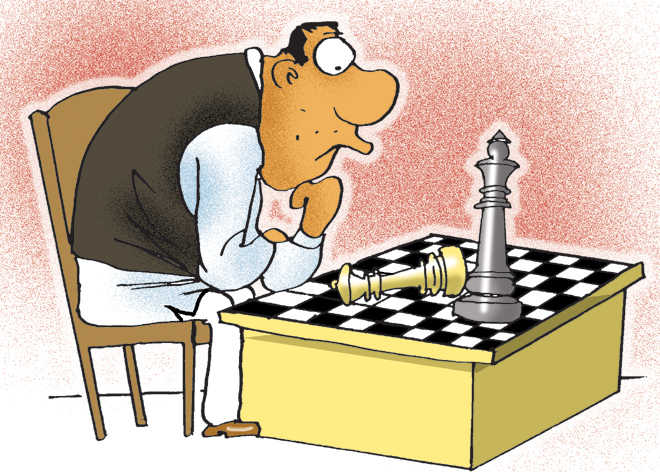 Neeraj Bagga
Tribune News Service
Amritsar, September 5
Amritsar's famous chessboards and chess pieces manufacturing industry has been adversely impacted by the recently imposed stringent rules that restrict the sale and purchase of all 130 varieties of 'Sheesham' or 'tahli'.
Although Meerut and Saharanpur in Uttar Pradesh also manufacture chessboards and pieces, Amritsar leads in their exports due to the superior quality and finish of the products, said Surjit Singh Ahuja, an Amritsar-based exporter. The city exports chessboards and pieces worth Rs 16 crore annually.
Dalbergia sissoo or 'Shisham', known as north Indian Rosewood, is a tree species common in India. According to the Convention on International Trade in Endangered Species of Wild Fauna and Flora (CITES), products made from this wood cannot be sold in the international market unless exporters procure a permit.
The requirement of permit has hampered trade as exporters have to deposit Rs 1.15 lakh fee to procure a 'Vriksha' licence under the new rule, besides paying an annual audit fee of Rs 40,000, Ahuja said. "The procedure is circuitous. We have to elaborately detail the 'Sheesham' tree from which the wood was sourced, where the tree was, which market it was sold in, and other aspects," he said.
Wooden chess sets made in Amritsar are superior due to the availability of high quality 'Sheesham' and the skills of local craftsmen, Ahuja said. Exporters fear that the requirement of the permit would eventually erode their competitiveness in the international market.
"Chess pieces from Sheesham are in high demand, especially in developed countries. If they are made from other woods, they do not hold such attraction," said Karnail Singh, proprietor of KS Arts. The company has been engaged in manufacturing and exports of chessboards and pieces for over 40 years. Amritsar is the global leader in the manufacture and export of this handicraft, asserted Karnal Singh.
Amritsar has around 35 units engaged in this industry and they bank on master craftsmen, who manually carve the chess sets. The industry's total turnover is estimated at around Rs 20 crore. The sector gives livelihood to about 1,000 skilled and semi-skilled artisans. Chess sets are mostly exported to developed countries of Europe, besides the US, Canada and Australia. Wooden chess equipment is one of the most sought-after gift items during Christmas in the western world. Therefore, winter is the busiest season for the manufacturers of Amritsar. The price of a complete chess set ranges from Rs 250 to Rs 18,000, depending on the quality.
Before Independence, chessboards and pieces were carved out of ivory. Red sandalwood replaced it after ivory was banned. Later, even the use of red wood was also prohibited.