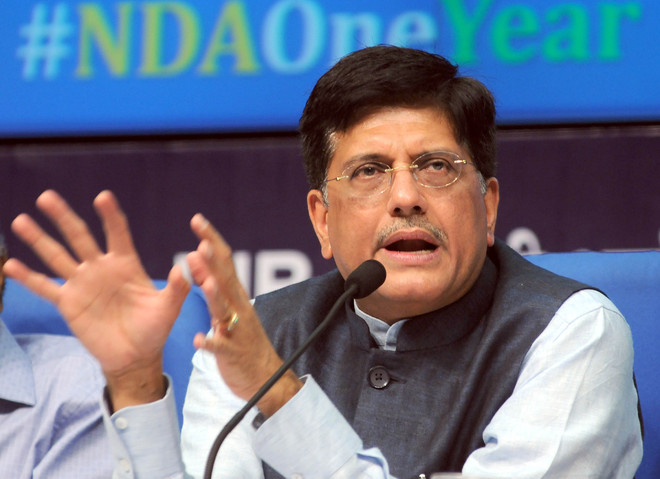 Tribune News Service
New Delhi, May 27
Minister of State (Independent charge) for Power, Coal and New and Renewable Energy Piyush Goyal today said the power deficit had come down to a record low of 3.6% on the back of highest ever addition of 22,566 MW of generation capacity in the country in the past one year. "Power deficit was brought down to 3.6% in India which is the lowest in its history. This has come on the basis of an increase in coal production," he said.
"Also, this power requires to be transmitted and transmission lines do not come up overnight, they take time," Goyal said.
There has been the highest ever increase in transmission line capacity of 22,100 circuit kilometres and the highest ever increase in sub-station capacity of 66,554 MW, he added.
"In line with the Prime Minister's promise of corruption-free governance, there has been de-bureaucratisation of my ministries," the minister further said.
He said state-owned Coal India produced a record 32 million tonne of fuel and was looking at producing 100 million tonne by 2020.
Future plans of the government include raising renewable energy capacity by more than five times to 1,75,000 MW by 2022, five ultra-mega power plants totalling 20,000 MW, reduction in peak load shortages through revival of stranded gas-based power plants, Rs 1.09 lakh-crore investment in sub-transmission and distribution and Rs 1 lakh crore of new transmission projects to be auctioned in the current year.
"Clean energy will be prioritised with 25 solar parks of about 100 MW each planned and Rs 38,000-crore green-energy corridor is being set up to transmit renewable energy," he added.
He said all bulbs would be replaced with LEDs over the next three years, resulting in huge savings in power bills for consumers while proposed amendments to the Electricity Act will give the consumers power to choose and change power supplier with competition improving affordability and service. He said the focus of the government was on developing the backward regions.
He said an investment of Rs 9,865 crore had been approved for upgrading power systems in eight north-eastern states and transmission lines approved with an investment of Rs 26,000 crore to evacuate power to the southern region from the western region.
Top News
Says poor largest segment in country, deserve first right on...
30 locations linked to news portal, journalists searched; di...