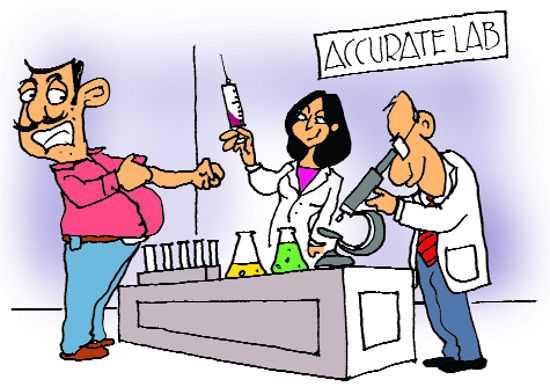 Vijay C Roy
Tribune News Service
Chandigarh, April 29
When it comes to medical diagnosis, Punjabis are more aware than their counterparts in the northern region, thanks to rapid urbanisation, improved health infrastructure and awareness. As per estimates, around 45% of population goes for diagnostic tests as compared to 30% nationally. Haryana, Himachal Pradesh and Jammu & Kashmir are way behind Punjab as far as medical diagnosis is concerned.
The lack of infrastructure and low awareness has pushed manufacturers and startups to aggressively target this region with new equipment and services.
"The medical diagnostics scenario in India is in sorry state of affairs, as only 30% Indians go for medical diagnosis, mainly because of lack of awareness and facilities. Though people in Punjab are more aware than their counterparts nationally, the general scenario is not encouraging. In the region, Punjab is followed by Haryana (30%), Himachal Pradesh and Jammu & Kashmir (10-15% each) in terms of people opting for diagnostic tests," said Suresh Vazirani, chairman and managing director of Mumbai-based Transasia Bio-Medicals Ltd.
The company is engaged in manufacturing of In-vitro Diagnostic (IVD) equipment and is among the leading global players focused on emerging markets.
Preventive healthcare is in nascent stage not only in the region but also across the country. Diseases pertaining to lifestyle are growing at an alarming rate and preventive diagnosis and regular monitoring is the only solution to manage them.
"The northern states of Punjab, Haryana and Himachal Pradesh have witnessed an upsurge in health statistics in recent years. Yet, there are some cases where these states have performed poorly among the health parameters. For example, Himachal Pradesh has been one of the worst-performing states in terms of anaemia among women of reproductive age while Punjab faces double burden of obesity and poor nutrition. Thus, it is essential that focus should be on preventive healthcare," said Neeraj Gupta, founder and CEO, Genes2Me.
To bridge the gap between patients and healthcare services, many of the startups have entered the region such as Gurgaon-based Genes2Me, Healthians and Delhi-based 3hcare.in.
The startups are offering concepts such as regular monitoring of health, lifestyle-based recommendations, health reports-based predictions and providing machine data to customers for transparency.
Neeraj said, "To bring comprehensive preventive healthcare in the states struggling behind in health indicators, we are working towards transforming routine diagnostics to a truly personalised diagnostic service through molecular testing. The technologically driven preventive healthcare diagnosis results in early detection of diseases."
Recently 3hcare.in — an online portal providing healthcare services — announced its expansion of offline footprints throughout tier 3 & 4 cities by opening their laboratory in Jhajjar.
"There is a gigantic gap between availability and demand for pathological labs in small villages and towns. This promises a huge potential for growth. With the recent launch of our laboratories, many local residents have been benefitted," said CA (Dr) Ruchi Gupta, founder and CEO of Delhi-based 3hcare.in.
Chart
State
Population (2011 census)
People opt for diagnostic test
Punjab
2.77 crore
45 %
Haryana
2.54 crore
30%
Himachal Pradesh
68.65 lakh
10-15%
J&K
1.25 crore
10-15%
Top News
IG Sukchain Singh Gill said Amritpal is also likely to be bo...
'Pakistan's spy agency ISI is behind instigating and funding...
The hunt for Amritpal enters the third day on Monday as the ...
Internet services were suspended in the state on March 18 fo...
Amritpal's driver, uncle arrested