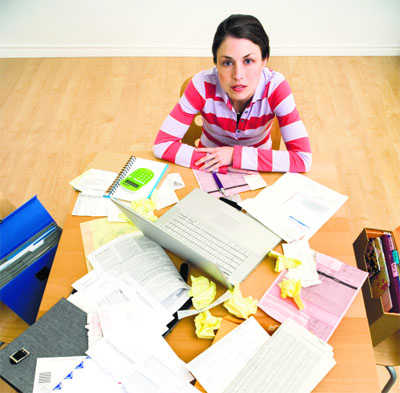 Ganesh Iyer
Whenever we read news on fraud or forgery, or watch a show depicting crime, we usually tend to ignore it, believing it can never happen to us. We probably believe we are insulated. But are we really? Can nothing really happen to us? Can we never fall prey to fraud? Let's check out some instances.
1. Rajeev Srivastava approached a service provider and was asked to submit his photo ID, address proof and PAN card as KYC documents. Rajeev gave his driver's licence and PAN card in original. This is something all of us do in normal course. The company representative took out multiple photocopies of each of the documents, but submitted only one set to the company, retaining the rest. The representative started using the remaining photocopies for personal use, such as buying a SIM card, etc. Raju soon found himself in a big mess as the SIM card was used for illegal activities and the police held him accountable.
2. Mohammed Khan gave a copy of his phone bill and PAN card as KYC documents to a travel agent for processing visa application. After a few months, he applied for a loan. Khan's loan application was rejected on the plea that he was a credit card defaulter. He later learnt that the documents were used to obtain credit cards. Several transactions were made, but the amount was never repaid. So, Khan's name appeared on the defaulter's list in the banking records.
3. Ranveer Singh gave a copy of his PAN card and electricity bill as KYC documents to an agent. After a few months, collection agents of a bank came to his house, asking him to repay a loan of a few lakh rupees since he was a co-borrower. Ranveer was not even aware of the loan against which he was shown as a co-borrower. He was made to repay the loan by the bank.
4. Gaurav Shah gave a copy of his PAN card for railway booking. After a year, he got a notice from the I-T Department asking him to disclose his income, wealth, etc. His PAN card was used to buy jewellery and electronic items in cash. The person who used Gaurav's PAN card to buy these items remained untraceable. But Gaurav was held accountable since his PAN card was used for transactions.
5. Ravi Shinde, a vegetable vendor in a village, gave a copy of his Aadhaar card to a company representative. Shinde died in a road accident 11 months later. The family found out that somebody had taken life insurance policies of Rs 10 lakh each in Shinde's name from 14 insurance companies, making his wife a nominee in all policies. The forger used a fake voter ID to show his own wife as Ravi Shinde's spouse. It was only when all insurance companies got together that they could crack the case. Investigations revealed that after taking insurance policies for around Rs 1.5 crore, the accused killed Ravi by staging an accident.
Moral of the story
Whether it is a city or a village, we are not insulated from fraudsters. Rajeev, Mohammed, Ranveer, Gaurav and Ravi were common, innocent men just like you and me. They all entered into simple transactions with known service providers and submitted KYC documents like we normally do. However, the documents were misused and all ended up in a sticky situation. Ravi paid with his life. These are not illustrations or stray examples of document fraud. These things happen around us. Our unsuspecting acts can land us in a lot of trouble, or even cost us our lives. The acts of crime that we read in newspapers or watch on television may well hurt us, if we are not cautious.
What you can do
1. Never give your KYC documents (passport, driver's licence, PAN card, Aadhaar card, voter ID, electricity bill, phone bill, bank statement, etc.) to anybody without a reason.
2. While handing over a document, always take out a photocopy of the original yourself and submit it to the representative or agent. Giving the copy in original to the agent for a photocopy can be tricky.
3. Always write on the photocopy: "Submitted to_______ (name of the service provider) as ID proof /income proof for _______ (the purpose for which you have approached) and it is for one-time use only".
4. Never ignore calls or correspondence either by SMS, email or post, which seem odd to you. Try and find out why such communication was sent to you — you never know your documentation may well have been used for an illegal transaction.
5. Do not share personal information such as PAN card details, credit card number, bank account number, insurance policy number or password, etc. with anyone. No institution ever enquires about these details over the phone or email.
6. Watch out for spurious calls, SMSes or emails as someone may be trying to lure you with unbelievable benefits on your insurance policy. Always remember: "There are no free lunches."
Be cautious. Be safe. Prevent fraud.
The writer is Senior Vice-President, Claims & Underwriting, Kotak Mahindra Old Mutual Life Insurance Limited. The views expressed in this article are his own
Top News
Modi: Reduction in train mishaps since 2014
Reviews preparedness & pending integration of armed forces
Bhutan shares over 400-km-long border with China