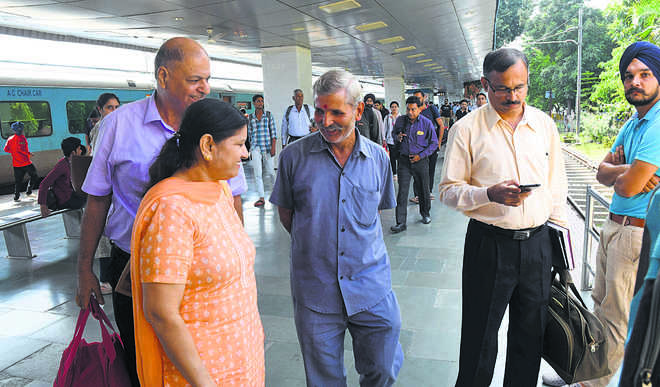 ROBINSINGH@TRIBUNE.COM
Tribune News Service
Chandigarh, September 20
Even with clear laws preventing them from doing so, cab and auto drivers, and even agents from hotels, manage to reach the platforms and badger passengers at the Chandigarh railway station.
According to the rules laid down by the Railways, besides the passengers, no one is allowed at the platforms without a platform ticket. The law also prevents any unauthorised personnel, including hawkers, from entering the station and even has a provision for the Railway Police Force (RPF) to fine them.
Passengers who frequent the railway station, however, claim that cab drivers often arrive at the platforms and badger them.
Nikhil Rampal, a frequent traveller to the city via the New Delhi-Chandigarh Shatabdi, said he felt "unwelcomed" at the station.
"After deboarding the train, I generally use the VIP exit on platform number one and the trouble starts there. The station hasn't even ended and cab/auto drivers start heckling. They tap my shoulders, scream. I asked them the fare once — it was double of what Ola was charging for the same distance," he said.
Another frequent traveller, Mitika Khanna, said she was often badgered by cab drivers after she got off the train.
According to coolies present at the station, cab drivers often enter the station and the problem has been so rampant that it has even deeply cut into their profits.
"Several auto and cab drivers line up at the platforms. Even tourist companies send their agents here. They directly engage with the passengers descending from the trains. The problem has been so severe that our union even sent a representation to the general manager and the RPF, but no action was taken," said a coolie.
As the trains arrive, several drivers can be seen entering the station from the exit gate as well.
"We know it is illegal. But what can we do, we have to earn money as well. Not just for getting passengers, we have to keep coming inside the premises to drink water and use the toilet. There are no facilities outside," said an auto driver.
A senior RPF official admitted to the problem and said they had started a crackdown on such agents.
"We have fined at least 550 such people till September this year. The problem has reduced compared to what it was two years ago. However, several continue this behaviour even after being penalised."
An Indian Railway Stations Development Corporation (IRSDC) official, the organisation entrusted with redevelopment work at the Chandigarh station, said a plan to put in a controlled access system was being developed. The official also admitted to the issue and said it was because the station was, at present, "open to all".
"We are planning to put in a boom barrier at the entry point to the station. Cars will be allowed to come in for 10 minutes, beyond which owners will have to pay a fee. Other vehicles, cabs and autos will be allowed only in the parking area," he added.
---
After deboarding the train, I generally use the VIP exit and the trouble starts there. The station hasn't even ended and cab/auto drivers start heckling. They tap my shoulders, scream. I asked them the fare once — it was double of what Ola charged. — Nikhil Rampal, Shatabdi traveller
Cities