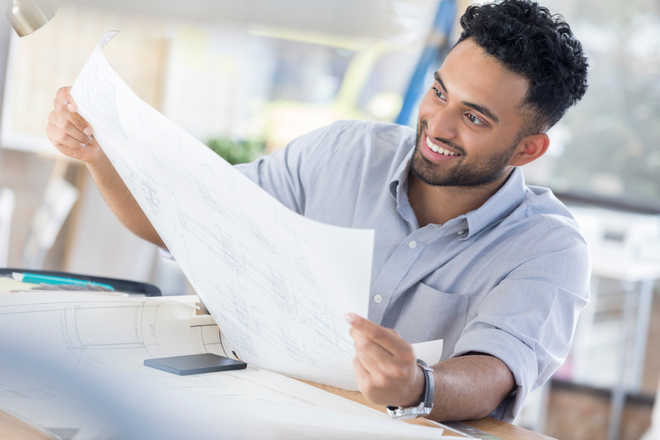 vinaymishra188@gmail.com
Usha Albuquerque
"I have done engineering, but my heart is in something creative," this is a common refrain. "I'd like to do something different, design something new, but…"
Design has always been an integral part of our aesthetic sensibilities. It is the age of design, and being creative, producing something new and different, whether for a web page, computer game, YouTube video or a new product, originality is the buzz of the day. Design has become an integral part of almost all products that we have today. Almost all big companies have a design team that approves a product before its launch. It is also for this reason that today companies like Google, Apple, Amazon, are among the most admired and sought after for jobs, and many students who have taken up the conventional engineering option begin to question how they can also get into this wonder world of imagination, originality and inspiration!
Actually, engineers are well suited to becoming designers, if they have the basic creative talent and aptitude. As it is stated, design is the process of taking something from its existing state and moving it to a preferred state. An engineer can do just that: easily apply knowledge of a product and its usability along with creativity and unconventional thinking to execute design solutions for all kinds of problems whether of engineering, marketing, brand development and sales. In fact, many companies prefer to hire engineers who are intellectually curious, eager to learn, creative in thinking, and passionate about design, and who can solve their tough problems.
So, if you want the freedom to think out-of-the-box , make design choices and work in a flexible and creative environment, then choose a design course. If you are sitting in a restaurant looking at a menu card and thinking you can do it differently, if you are sitting on a chair and realise you could use another kind of shape and comfort, if you are looking at your car, and wish you could have given it an original kind of look, then design is the way forward for you — even if you are doing engineering.
The best way to get into a design career after engineering is to take up training in design available at the master's level, and offered by several IITs and other design institutes such as National Institute of Design, Ahmedabad, National Institute of Fashion Technology, and others. As design is now applicable to so many facets of our life and lifestyle, there are many different fields of design that you can specialise in. A master's in Design is, therefore, available in several specialisations, so after an engineering degree you could as well do a master's in fashion or communication design, as you can in industrial, ceramic or new media design. There are also courses in automotive design, user-interface design, interactive design, toy design, and many other specialisations. While most design institutes take on graduates from all disciplines provided they clear the entrance test, the IITs require graduates in design, architecture, engineering or with MSc, arts, computer applications.
The most important requirement to make a career in design is an ability to think originally and work in an innovative and imaginative way. To establish your creative ability and aptitude for design, all design institutes hold an entrance test. The examination tests for visual perception ability, drawing skills, design aptitude and communication skills. The IITs hold the Common Entrance Exam for Design (CEED) while others have their own tests.
MDes programmes are meant to develop skills, knowledge and aptitude among students to become creative problem solvers who can bring about innovation in the manufacturing, marketing and communication industries. The training is both theoretical as well as practical. Most courses include freehand drawing, as well as computer aided visualisation, geometry, making models, information material, colour graphic composition and design processes. As part of the learning process, students are allocated an actual workplace in industry where they have to design a functional item / product.
Job opportunities
While it may be difficult to land yourself a design job after a degree in engineering, particularly if you have taken up mechanical, electrical, or civil engineering, you could try for one that has you working with a design team that designs mechanical products that people interact with, for example at a consumer electronics or automobile company. This work will help you learn the special considerations that an engineer must master in order to design things for people as opposed to machines.
You should already have a strong knowledge of engineering drawings, design of machine elements, design of transmission systems, strength of materials etc which will hold you in good stead. You are also familiar with Computer Aided design work (CAD) so improve your skill at building in multiple CAD packages. You can also take up design courses that introduce you to some of the new software used by designers, or rendering packages, that give you a leg-up on most engineers who don't learn this skill - all design work today is carried out on computers!
There is no doubt that a growing demand for designers is being felt in almost every sphere of human activity. Design is definitely one of the more sought after professions with almost every field of work requiring a designer's touch. Consumerism has led to the rising demand for designers and there is no dearth of work for them. As market competition increases, new products are being released almost every day, and need to be well designed and attractive enough to catch the eye of the consumer, while also fulfilling a functional use.
---
Be on a sure footing
Any engineer moving into a design related career must be quite certain that this is the ideal route forward. It is not easy changing streams in one's professional career training and so before you take the plunge it may be wise to test the waters. You can take up student internships, or take a couple of years off to get some on-the-job work experience that will enable you to think more seriously before opting for a new design career.
You can start by laying some foundational steps even before you complete graduation. This could be in the form of involving yourself in designing something on your own - some gadget, piece of furniture, or trying to solve a real problem with a design solution keeping an eye on both form and function. Where possible participate in design competitions and present your creative work. It could also be useful and a good introduction to this new career space to make an effort to meet with designers and attend design events where you will get to interact with people in this field and get a good sense of their motivation and passion, and what makes them tick. Design is a field where a lukewarm or half hearted reaction will get you nowhere. It has to be full steam ahead!
You can also consider taking up some design-related internships while doing your engineering degree that will give you a feel for the kind of road ahead. Try to get involved in aspects of work that relate to designing parts or products that need an aesthetic input, or affect user experience.
Some courses that those with BTech degree can check out include:
The two-year MDes at the Industrial design Centre, IIT Mumbai offers specialisations in
Industrial design
Visual communucation
Interaction design
Animation
Mobility and vehicle design
The IIT, Mumbai, also offers a 5-year dual degree B Des + M Des programme.
The two-year MDes in Industrial Design and Visual communucation, is also being offered at the IITs at Guwahati, Kanpur and New Delhi.
India's premier design institute the National Institute of Design Ahmedabad, offers the MDes with specialisation in as many as 14 disciplines . These are:
Product design, transportation design, furniture and interior design, ceramic & glass design, toy design and development;
Graphic design, animation film design, film & video communication, exhibition design;
New media design, software and user interface design, information and digital design
Textile and apparel design, apparel design and merchandising, lifestyle accessory design
Strategic design management.
The Indian Institute of Science, too, offers a M Des degree in Product Design and Engineering, at its Centre for Product Design and Manufacturing, in Bangalore, with admission open to graduates of design, architecture and engineering through GATE, or CEED.
The Indian Institute of Information Technology, Design and Manufacturing, Jabalpur, offers a two-year MDes in Product Design and Visual Design with admission open to graduates of design, architecture and engineering through a design test.
In addition there are several other private institutes, including Shristi School of Art Design and Technology , which offer a two-year Advanced Diploma in Experimental Media Arts, Design in Education, Animation and Visual Effects, Gaming and Interaction.
Maeers MIT Institute of Design, Pune, has a 2.5 year PG Diploma in Product Design, Transportation Design, Interior Space and Equipment Design .
So, there are many options for getting into design, including post-graduate diploma courses, and computer aided design programmes (CAD), which you can take up.
All readers are invited to post comments responsibly. Any messages with foul language or inciting hatred will be deleted. Comments with all capital letters will also be deleted. Readers are encouraged to flag the comments they feel are inappropriate. The views expressed in the Comments section are of the individuals writing the post. The Tribune does not endorse or support the views in these posts in any manner.