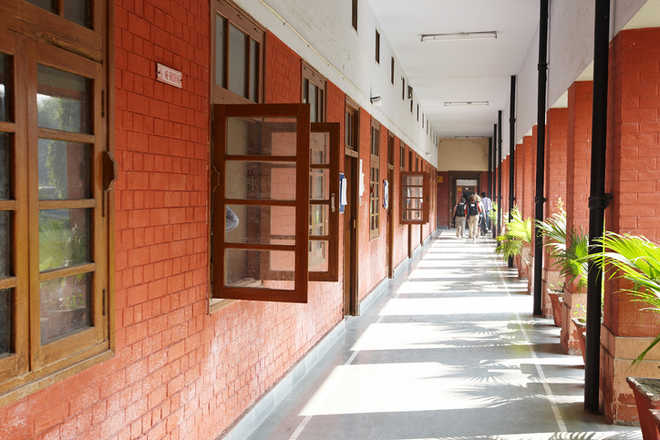 harinder@tribunemail.com
George N Netto
Way back in the 1950s, none perhaps believed more fervently in the efficacy of caning wayward boys than Father Masters, the prefect of our boarding school in Tiruchi, then run by British Jesuits. An unrelenting martinet, he felt it was the only foolproof way to discipline and rein in mischievous youngsters out to make life miserable for him and others.
Any misconduct — from sneaking out to the neighbouring cinema theatre for a late-night western to being caught smoking or in possession of fags; and from corresponding with a girlfriend in the nearby convent (bribing a day-scholar to be the messenger) to sloshing a chronic snorer with a basinful of water for keeping us awake at night with his guttural groans — brought prompt punishment.
Further, sadists who planted pins in chairs (with the business end up!) and pranksters who thoughtlessly tore out pages from others' notebooks for use as toilet paper were never spared. Nor were those who perversely deflated the tyres of teachers' bicycles or set off deafening 'bombs' during Diwali, timed to jolt busy classes or the prefect during his afternoon siesta. Depending on the gravity of the offence, one received three or six 'of the best' (to use the prefect's euphemism) on one's behind. And woe to you if you weren't well cushioned anatomically!
The caning usually left one with a very sore fundament, which made sitting pure agony for a few days, and a resolve never to go astray again. One irate boarder who pelted the server with half-cooked pieces of beef during lunch got his just deserts.
Some errant recipients even chose to squat bare-bottomed in a basin of water to salve the angry red welts streaking their behinds! For when the prefect worked off his ire and frustration on a wrong-doer, he usually left 'lasting impressions'.
Three boarders once bunked for a late-night movie with the connivance of their buddies who ingeniously made three dummies on their cots to fool the prefect — using a football for the head, pillows for the torso and hockey sticks with the curved ends up for the legs, covering these with a bedsheet. Imagine the trio's shock on their return around midnight to find the fuming prefect fondly fingering his cane and waiting for them. Mayhem promptly followed.
Those were the heyday of corporal punishment in schools — a stark contrast, indeed, to today's virtually punishment-free juvenile world. True, the prospect of a harsh punishment did deter potential mischief-makers then, but high-spirited and resilient youngsters couldn't really be caned into quietude for long. So, the so-called 'recidivists' did rear their heads again. As one incorrigible guy put it unforgettably, 'I've got more marks on my backside than in my report card!'
All readers are invited to post comments responsibly. Any messages with foul language or inciting hatred will be deleted. Comments with all capital letters will also be deleted. Readers are encouraged to flag the comments they feel are inappropriate. The views expressed in the Comments section are of the individuals writing the post. The Tribune does not endorse or support the views in these posts in any manner.
Top Stories