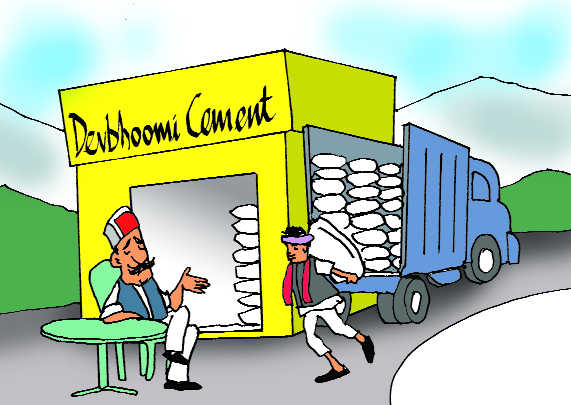 ROBINSINGH@TRIBUNE.COM
Ambika Sharma
Tribune News Service
Solan, August 12
The price of cement continues to be high in Himachal as compared to neighbouring states as the state imposes double taxation on the commodity. Moreover, the state levies have not been withdrawn even after the introduction of GST in July 2017.
This is despite the fact that Himachal is a cement-manufacturing state and all major companies such as Ambuja, ACC, UltraTech and Cement Corporation of India have their units in the state. It produces 11.45 million tonnes of cement annually and caters to the demand of northern markets. A bag of cement is around Rs 15-Rs 20 costlier in Himachal than in neighbouring states.
The highest tax slab of 18% GST is imposed on cement and this is in addition to the Certain Goods Carried by Road Tax (CGCR) and the Additional Goods Tax (AGT) which the state government charges. The CGCR on transportation of clinker is Rs 120 per tonne up to 250 km while on the cement it is Rs 150 per tonne up to 250 km. The CGCR on limestone, which is a major raw material for the cement, is as high as Rs 26.25 per tonne. These state-level levies have not been subsumed in the GST and the manufacturers have been subjected to double taxation.
"Apart from the taxes, what further adds to the high price of cement is the abnormally high freight of Rs 9.70 per tonne per km which is being charged by the transporters and successive state governments have failed to rationalise these rates. It is pertinent to mention that the state government-notified freight is Rs 4.38 per tonne per km up to 100 km for various commodities while for the cement it is Rs 8.35 per tonne per kilometre. In Punjab, freight is less than Rs 3.35 per tonne per km", said a senior official of a major cement manufacturing company in Himachal.
Notably, higher freight has been an issue of concern for the manufacturers and successive governments have dithered from taking steps to rationalise it fearing electoral loss though this demand has been vociferously raised by the investors for years.
While justifying the state-level taxes, an official of the state Excise and Taxes Department said since the transportation of cement led to high wear and tear of the roads, the state-level taxes were used for their maintenance and repair.
---
Vital statistics
Major cement manufacturers
Ambuja, ACC, UltraTech,
Cement Corporation of India
Annual production: 11.45 MT
Freight: Rs 9.70/tonne per km