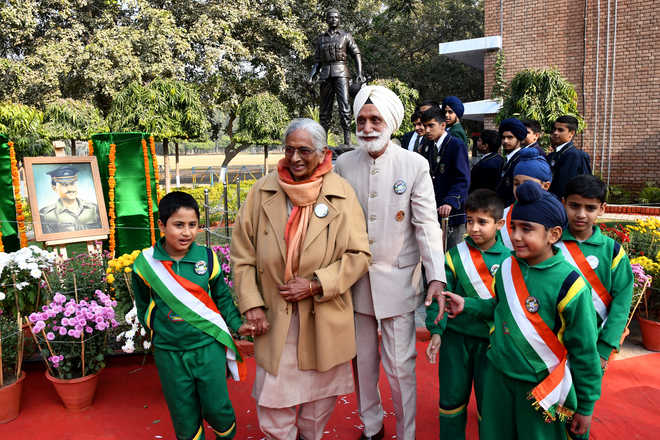 Bhartesh Singh Thakur
Tribune News Service
Chandigarh, November 29
"I am a proud father of a brave son. This is my designation... I am nothing before my son," said DS Sandhu, father of Second Lieutenant Rajeev Sandhu.
DS Sandhu and his wife Jaya Kanta Sandhu inaugurated the memorial and unveiled the statue of their son Rajeev at St John's High School, Sector 26, Chandigarh.
Rajeev who had passed out from the school in 1982 died in the India Peace Keeping Force (IPKF) operation in Sri Lanka in 1988 and was awarded the second highest gallantry award Maha Vir Chakra (MVC).
At 21, he is probably the youngest recipient of the MVC. He had completed three months of service in the Assam Regiment.
Citing a Kabir's couplet in Guru Granth Sahib, DS Sandhu said Rajeev had all three qualities — bravery, generosity and devotion.
His classmates remembered him as a leader from day one and how he was fit for the Army.
"It was in his blood," said Lt Col PK Jaitly (retd), a classmate of Rajeev.
"There were three officers from our class. Only he was the fittest. He had a never-say-die spirit," said Col Michael James (retd), another classmate of Rajeev.
"He had a high willpower. He could do anything," said Lt Col Jaitly.
His classmates, including Sanjeev Sharma and Rajeev Chandgotia, remembered how once Rajeev led them to the Pinjore airfield on bicycles. They also narrated how they all used to launch a barrage of missiles while using a rubber band as a catapult along with him.
His teacher Parminder Malik remembered: "I taught him for three years, in Classes VII, VIII and IX. He was not among toppers but was a pleasant boy. While other boys were naughty, I could not complain about him."
Earlier, during the inauguration of a memorial that included unveiling of a statue, Justice GS Sandhawalia, batchmate of Rajeev, broke down while delivering his speech.
The event was attended by the nine sitting high court judges, who are alumni of the school. Former union minister Manish Tewari was also present.
Principal Kavita C Das motivated students to live up to the school motto, 'Pro Deo Et Patria', which means 'For God and Country' and she pointed out how this great son of the school had more than lived up to this motto to the point of supreme sacrifice of laying down his life for his motherland.
She said everything has a time and today was the time for the son of St John's to come home and take his place in the school he had grown up in and loved.
Rajeev's mother was the first lady SSP from the PPS cadre who had also received a police medal for distinguished and meritorious service.
A peep into the past
As per a MVC citation, on July 19, 1988, Second Lieutenant Rajeev Sandhu was leading a convoy of two vehicles from Madurang Keni Kulam to Mangani in Sri Lanka for collection of dry ration items. On the way, his jeep was suddenly fired at by militants with rockets and AK-47 and 7.62 rifles. He was seriously wounded and a direct hit of a rocket completely mutilated both his legs.
"Totally crippled and bleeding profusely, he tumbled out of the jeep with his 9 mm carbine and crawled to a firing position. Presuming that everyone in the vehicle had been killed, one of the militants came out of hiding and approached the jeep to pick up weapons and ammunition. But all was not yet for Second Lieutenant Rajeev. Despite the fact that his legs were totally smashed and his body was perforated with bullets, he lifted his carbine with blood-soaked hands, sprayed the militant with bullets and killed him. The militant was later found to be Kumaran of the group, led by Batticaloa Sector militant leader Karuna."
Top News
Major gains expected in southern states, says party's resolu...
3 Cabinet berths vacant even if 5 new faces are inducted
L-G Manoj Sinha, DGP Dilbag Singh announce reward for braveh...
FIR registered in Jaipur against TV channel | 'Channel admit...
Proposal being prepared to get clearance under Forest Conser...