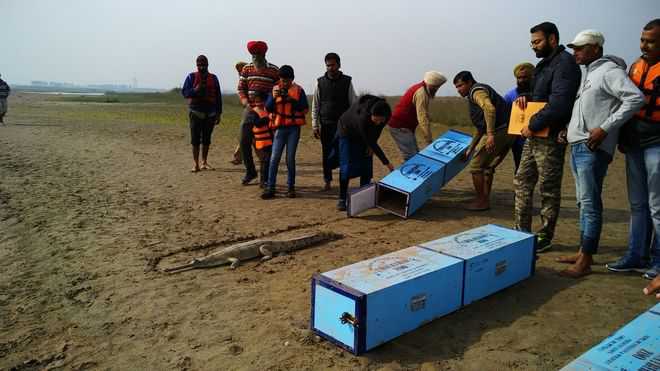 Zirakpur, January 31
The Punjab Wildlife Department, with the help of the Forest Department, released 15 gharials into the Beas, five kilometres upstream from Gagrewal village, on Wednesday.
A monitoring team of the World Wildlife Fund (WWF) was also present on the occasion. The fish-eating reptiles, aged 3, were brought from the Mohendra Chaudhary Zoological Park, commonly known as the Chhatbir Zoo, in special containers.
Dr M Sudhagar, Director, Chhatbir Zoo, said as many as 25 gharials were brought from the eco-centre, Morena, Madhya Pradesh, and had been kept at the zoo. They were trained to swim against the water current and fed live fish. Their health was observed by the veterinary wing of the zoo, which found them fit to be released, he added. After an extensive survey, WWF experts had recommended to release gharials into the Beas, which has plenty of sand banks to provide space to the animal to soak under the sun. "A gharial takes nearly 10 years to mature and has a lifespan of 30 years," said zoo officials. — OC
Top News
The 58-year-old OBC leader served as minister for higher edu...
Article 370 was a temporary provision, says CJI as Bench pro...
NC leader Omar Abdullah expresses 'disappointment', but vows...
All newly elected MLAs told to compulsorily attend the meeti...
Rape survivor had visited King George's Medical University w...