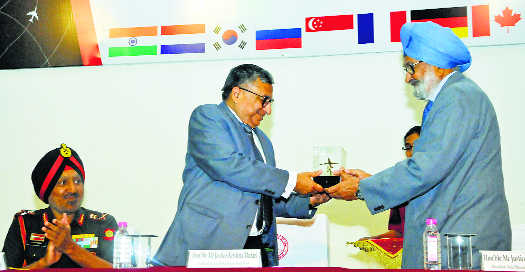 Saurabh Malik
Tribune News Service
Chandigarh, April 5
An international moot court competition attended by 18 teams from 11 countries, inaugurated this morning, turned out to be first lesson in practical advocacy for budding lawyers from across the world.
The Tenth Leiden Sarin International Air Law Moot Court Competition was inaugurated at the Army Institute of Law in Mohali by the Chief Justice of the Punjab and Haryana High Court, Justice Krishna Murari. This year's case on air law was expected to raise legal issues concerning countries and people around the globe.
Moot coordinator Nitin Sarin said the participants were from 11 countries, including Canada, China, the Netherlands, Poland, Russia, Sri Lanka, Singapore, Hong Kong and India.
Lt Gen Surinder Singh gave the audience a mantra for success by virtually drawing a parallel between the Army and advocacy. The GOC-in-C, Western Command, and patron-in-chief of the Army Institute of Law said: "It's always good to know your enemy."
Making it clear that the underlying principle of military and foreign policy was good enough for advocates as well, Lt Gen Surinder Singh said the world was a family and people were mingling with each other.
Doling out constructive tips for the lawyers and the participants, Chief Justice Murari asserted there were various facets to the moot court experience. One could master the law library, but at worst it could also be a seedbed from which sloppy or incorrect work habits grew. If possible, it was worthwhile to scrutinise the experiential flaws of mooting which could instil incorrect working habits in future litigators. Chief Justice Murari added renewed focus on presenting creative and coherent legal arguments comprehensively was a must.
Delivering the welcome address, former Chief Justice of the Allahabad High Court and president of the Sarin Memorial Legal Aid Foundation, Justice SS Sodhi, said the organisation was set up in 1995 in the memory of two lawyers, senior advocate Harbans Lal Sarin, who joined the profession in 1932, and his son Ranjit Lal Sarin, who in just over a decade shot into prominence in legal circles, but pre-maturely passed away at the young age of 37 within the precincts of the Supreme Court.
Senior advocate ML Sarin said the competition starting from Delhi had travelled across the world before reaching the organisation's home in Chandigarh.
Top Stories