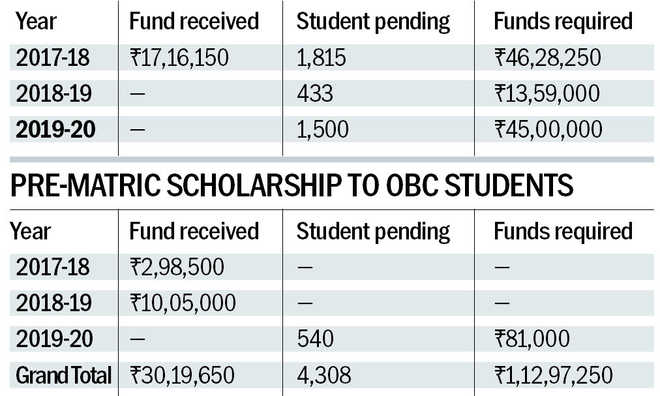 Naina Mishra
Tribune News Service
Chandigarh, September 14
In Punjab, over six lakh students have been awaiting post-matric scholarship funds amounting to Rs 1,359 crore since 2017. As many as 3.5 lakh students have not received Rs 5.85 crore funds under the post-matric scholarship since two years.
The facts were tabled in a meeting held to review the implementation of schemes in Punjab and Chandigarh by Ramdas Athawale, Union Minister of State for Social Justice and Empowerment, here today.
The pendency in disbursing scholarships to minority communities cripple Chandigarh too as 4,308 students have yet to receive a pre-matric scholarship since 2017 as amount of Rs 1 crore is pending.
From 2017 to till date, Chandigarh has received Rs 30 lakh from the Centre against the requirement of Rs 1 crore under the pre-matric scholarship.
In 2018-19, as many as 1,086 students had applied for the post-matric scholarship amounting to Rs 4.11 crore. Its disbursement is pending due to grant not received from the Central government. Besides, Rs 76 lakh will most likely be disbursed among 334 beneficiaries of the post-matric scholarship in the UT.
Athawale questioned Punjab for the massive backlog in post -matric scholarship. He enquired whether any data regarding beneficiaries of the scheme was updated on the portal by officials of the state or not.
Both Punjab and the UT were assured that the pending scholarship amount would be disbursed.
"After embezzlement of scholarship funds in Haryana and Punjab, the Central government has started the verification process of applicants due to which some delay has been caused in sanctioning of the amount by the ministry. Funds are being awaited from the Centre and will be directed to the DBT accounts of beneficiaries," said UT official requesting anonymity.
Post-matric scholarship is awarded to students studying in Classes XI and XII, including technical and vocational courses of this level, at polytechnics and ITIs.
Pre-matric scholarship is for students of the minority community studying in Classes I to X.